About
Real Tech Inc. is dedicated to providing high quality UV photometric and spectroscopic analytical instrumentation for the water and wastewater industry. Real Tech's innovative technologies offer simple and effective solutions that overcome the challenges of spectral analysis, especially within process environments. Thus. creating product offerings with superior performance, reliability and ease of use, while maintaining cost effectiveness. The company strives to continuously meet the evolving analytical and monitoring needs of water and wastewater treatment professionals, doing our part to improve global water quality.
Real Tech Inc. places great importance on customer relationships and support, and works hard to ensure customer satisfaction.
"Our mission is to provide cost effective, technologically superior UV photometric and spectroscopic
analytical instrumentation that meets the growing demands of the global water and wastewater industry."
Real Tech Inc. offers a complete product line of organics monitoring instruments for several applications including: coagulation optimization, UV disinfection dosing, water distribution system security, organic contamination monitoring, and more. For more information about specific applications click here.
Real UV254 Portable Meter Series
The Real UV254 meter series contains portable instrumentation that can measure the UV254 organic water quality parameter in the field within minutes. The Real UV254 meter series utilizes Real Tech Inc.'s patented Split-Sense technology to provide many advantages, making it the world's most advanced and affordable portable UV254 testing meter.

Real Spectrum Analyzer
Real Tech's new continuous online spectroscopy analyzer series provides highly accurate, easy to use and affordable real time process monitoring, scanning across the whole spectrum of UV and/or visible light, allowing for the rapid detection of many common and emerging contaminants.

Real UV254 M3000
The Real UV254 M3000 with exclusive Ortho-Beam technology provides continuous UV254 organic monitoring online in real time. The M3000's patent pending Ortho-Beam technology solves the challenges faced by other UV254 online measuring instrumentation.

Real Clean System
The Real Clean system improves the performance and further reduces the maintenance of Real Tech Inc.'s monitors for applications with harder waters or wastewater applications.

Real UV254 M4000
Real Tech Inc.'s innovative Real UV254 Hi-Organic (ultra pure) TOC monitor provides highly sensitive measurement capability. The Real UV254 M4000 is beneficial for waters that have relatively low levels of organics, such as high purity treatment applications and distribution system monitoring.

Pump Kit with Real Clean System
This cost effective solution allows the Real UVT Online monitor to be easily used for open channel or non-pressurized wastewater applications

Real UV254 Security Monitor (M4100)
The Real UV254 Security monitor allows municipalities and commercial buildings to continuously monitor for accidental or intentional contamination by testing for a number of highly toxic organic compounds.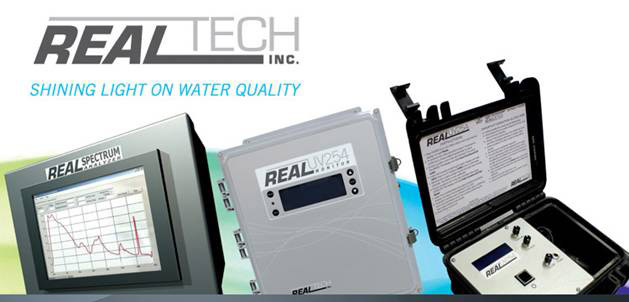 Supplier Directory Categories
Real Tech, Inc. is listed in these categories: