About
Rotacaster's multi-directional wheels are instrumental in materials handling, conveyor, OEM, robotic and a other applications requiring omni-directional manoeuvrability.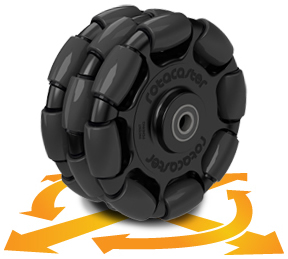 Rotacaster Wheel Pty Ltd designs and manufactures innovative, patented, multi-directional wheels. Rotacasters are a next-generation solution and an ideal improvement on traditional swivel casters when expanded capability is required.
Rotacaster wheels are sturdy, impact resistant, precision-engineered, and made from fully moulded polymers allowing the engineering of entirely new multi-directional movement solutions at a consumer, commercial and industrial level.
To learn more on how Rotacaster can assist you in solving your multi-directional mobility and transportation needs in the area of floor wheels, conveyors, materials handling and robotics, please select from the sections below.
Download a FREE ANALYTICAL REPORT comparing the Rotatruck to a standard hand truck. It details the improved ergonomic safety and increased productivity and immediate ROI delivered by the Rotatruck.
---

Rotacasters deliver multi-directional capability with the benefits of a rigid mount.

---

Rotacasters transfer loads in any horizontal direction or cylindrical rotation.

---

Rotacaster materials handling tools improve ergonomic safety and productivity.

---

Rotacasters excel in robotic mobility by enabling ultimate manoeuvrability, easily.

---

Catalogues

---

Catalogues

---

Catalogues

---

Catalogues
Supplier Directory Categories
Technical Articles

Rotatruck vs Hand Truck
(Material Handling Equipment)
Download the comparative report evaluating the Rotatruck to a standard hand truck. It details the improved ergonomic safety and increased productivity and immediate ROI delivered by the Rotatruck. (
View Full Article
)