About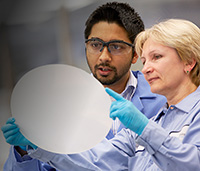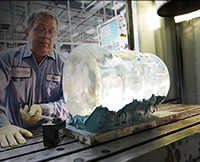 Rubicon Technology is the leading vertically integrated manufacturer of superior quality, monocrystalline sapphire products, including high volumes of large-diameter sapphire wafers. Our products are used extensively by manufacturers in high-growth markets worldwide, including light-emitting diodes (LEDs), radio frequency integrated circuits (RFICs), blue laser diodes and optical applications.
Leveraging a proprietary crystal growth technology, Rubicon produces sapphire in a form that allows for volume production of sapphire substrates and windows in a variety of sizes and planar orientations. With a proven ability to scale production and wafer sizes while maintaining quality — and with an advantageous cost structure — Rubicon is the manufacturer more discerning customers rely on for superior quality industrial sapphire.
Our state-of-the-art manufacturing facilities fabricate sapphire with precise geometries and orientation and tight tolerances, and our processes are flexible to accommodate a wide range of customer specifications. Rubicon is a fully vertically integrated sapphire manufacturer with technology platforms in crystal growth, high precision core drilling, wafer slicing, surface lapping, ultra flat large-diameter polishing, metrology and wafer cleaning processes. And we continuously develop our technology platforms in anticipation of our customers' evolving sapphire material requirements.
Rubicon has a strong track record of developing new technologies and processes to lead our markets and provide a constant stream of new products. Our material scientists, crystal growers and experienced engineers, many with PhD-level training, work closely with our customers to provide innovative products and solutions to meet their demands. We understand customers' applications and can develop optimal custom solutions.
We continue to focus our R&D efforts on growing larger dimension sapphire crystals and increasing the capability of our fabrication processes to provide innovative crystal products and improve our customers' yields and throughput. In addition, we apply our expertise to develop proprietary manufacturing and metrology processes to ensure that we remain the world's most capable and trusted sapphire supplier.
Supplier Directory Categories