About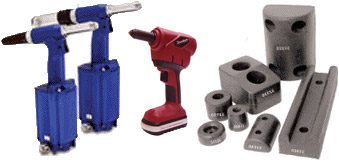 S-B Industries offers a host of products to meet your needs including our line of Lobster Tools blind rivet and rivet nut guns, RiveDrill riveter attachments, an extensive inventory of standard, custom molded and extruded rubber products, and LORD Corporation vibration isolators.
With a clear commitment from top management and all employee owners of S-B Industries, we are proud to announce that we have met the demands of ISO 9001:2008 registration and have been certified to the standard as of December 17, 2013.





S-B Rivet Guns


S-B Rivet Guns is the authorized North and South American distributor for the Lobster Tools line of blind rivet guns and rivet nut tools. Learn More...

NEW R1A1 Blind Rivet Tool


The R1A1 has amazing strength-to-weight ratio.
Learn More...




Power & Performance in a Cordless Riveter


The Rivdom battery riveter cuts costs and allows unlimited freedom of movement. Weighing only 3.4 lbs. the Rivdom riveter is capable of setting up to 3/16" blind rivets in all materials. The 14.4V, lithium-ion battery charges in less than one hour. The Rivdom is for applications on the go.
Learn more...


Set up to 14 rivets per minute - twice as many as you can set by standard hand tools - with less fatigue. The RiveDrill™ is an innovative drill attachment that easily converts cordless, electric and pneumatic drills into blind rivet guns. It is affordable, portable, ergonomic and quickly making the hand held riveter obsolete.
Learn More...




Molded Rubber Parts & Vibration Control Products


S-B Industries is your source for molded, fabricated, and extruded rubber parts and assemblies including extensive lines of stock rubber grommets, bumpers, suction cups, and O-rings as well as Lord® vibration control isolators and mounts.
Learn More...
Supplier Directory Categories
S-B Industries is listed in these categories: