About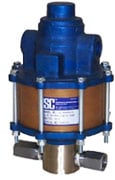 SC Hydraulic Engineering is a leading manufacturer and designer of an ever growing line of high pressure, air-driven liquid pumps, as well as air and gas boosters which are being used in a variety of industries and applications.
Growing since 1953, they offer liquid pressures as high as 70,000 psig and up to 25,000 psig in gas pressures.
SC Hydraulic Engineering works internationally through distribution and with manufacturers. They are continually developing new products to meet a never-ending stream of newly emerging applications.
SC Hydraulic Engineering will continue to meet tougher, more demanding requirements throughout the new millennium.
SC Hydraulic Engineering Corp. provides services for repair or reconditioning of SC Hydraulic Pumps and Boosters. Their skilled technicians can trouble shoot and repair all products they manufacture.
SC Hydraulic Engineering also provides customer service for those technical problems you may not have encountered before. Their staff has many years of experience with hydraulic pumps and boosters and will gladly assist you.
Supplier Directory Categories