About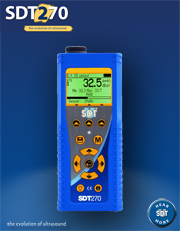 Your factory floor is a noisy place where machinery failures are muted by the roar and rumble of production. Do you wish you could rise above the commotion and lock your senses onto the next unanticipated catastrophe before it happens? Contact SDT today and let them elevate your senses!
SDT ultrasound data collectors let you hear above the noise. Hear more failed bearings, more air leaks, and more faulty electrical systems. Ultrasound data collectors hear sounds beyond normal human capabilities. They enable you to sense machine failures and factory inefficiencies earlier than before. Predict mechanical failures weeks before they occur. Pinpoint leaks despite deafening ambient plant noise. Sort working steam traps from faulty ones. Locate integrity issues in your building's envelope. Safely find dangerous arcing conditions in electrical systems. SDT lets you HEAR MORE, so you can DO MORE.
SDT's ultrasound technology leads a revolution for reliability and maintenance professionals.

Solutions built for every budget, SDT Ultrasound is Predictive Maintenance for the Masses.
Supplier Directory Categories
SDT Ultrasound Solutions is also listed in these categories:
Technical Articles