About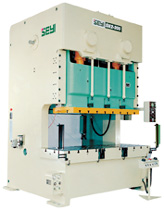 SEYI provides stamping presses to the metalforming industry in North America. Since 1962, SEYI has been dedicated to building high quality, innovative and world-class stamping presses. With 45 years of hard work, they have become one of the world's leading stamping press manufacturers.
Each year SEYI manufactures and ships more than 4,000 presses to all parts of the world from their factories.
SEYI products were first introduced to the North American metal-stamping industry in the mid-1980's by Sutherland Presses, who represented SEYI until 1997. CNB Presses (Clearing-Niagara-Bliss) was SEYI's partner from 1998-1999. With the growth of the North America market, SEYI Presses, Inc. was strategically formed in 2000 to create a direct link between the North American metal forming community and Shieh Yih Machinery, the manufacturer and parent company of SEYI presses. Today, SEYI has over 1,500 presses operating in North America. SEYI America Inc. has two offices in the United States, one in California and the other in Tennessee, to better serve their North America customers.
SEYI's mission is to provide the metal-stamping industry with products that deliver high quality, innovative and effective stamping solutions. Their line includes c-frame, gap frame, straightside and link motions presses.
Machine frame and components are put through rigorous finite element analysis before fabrication. SEYI uses 3D/CAD/CAM technology to improve product performance, quality and manufacturing efficiency, second to none.
To back up SEYI's 45 years of manufacturing experience, they use state-of-the-art machining and automation equipment. This includes: horizontal CNC boring mills equipped with a rolling bolster and ATC (automatic tool changer), CNC lathes and multi-axis CNC machining centers. This guarantees tight tolerances, high precision and quality machining.
SEYI obtained ISO-9001 certificate of recognition in 1994 and ISO-14001 certificate of recognition in 2001. TQM (Total Quality Management) is implemented by all employees.

Supplier Directory Categories