About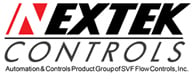 SVF Flow Controls is a leading manufacturer of ball valves, actuators, and controls for all industrial applications.
Since 1982, our engineering expertise, quality product and unparalleled service have earned us a leadership position in the marketplace. Our ball valves and related products are specified in the chemical, petro-chem, power, pulp & paper, water/wastewater, oil & gas, refining, pharmaceutical, food & beverage, safety and fire systems markets as well as many others.
Our product lines include:
Industrial Valves
High Purity Valves
Custom Valves
NEXTEK Controls
NEXTEK Controls is the Automation & Controls Product Group of SVF that includes a range of actuators and accessories for the automation of quarter-turn valves that provide field control and connectivity. NEXTEK Controls highlights our products and capabilities and serves as a Resource in developing and delivering automated valves to meet industry requirements for system integration, performance and value.
All of our products are backed by a customer focused service staff, full applications support and field service as well as complete training in all aspects of our products and their applications. As an ISO 9001:2008 certified company, we are committed to quality and continuous improvement in all that we do.
We welcome your inquiries and guarantee that our team will work diligently to satisfy your requirements. If you don't see what you need here, we will be happy to work with you to develop a product to meet your exact specifications.
SVF Flow Controls, Inc., - Celebrating 30 Years of Service, Value & Flexibility



Supplier Directory Categories
SVF Flow Controls, Inc. is also listed in these categories:
Technical Articles