About
SWD Inc. Fastener Sorting Corporation specializes in black oxide, passivation, phosphating, dip spin coatings, and fastener sorting. SWD Inc. is Chicagoland's premier metal finishing, dip spin coatings and fastener sorting facility. We specialize in working with stampings and fasteners such as screws, nuts, bolts, and washers.
SWD Inc. is located less than 30 minutes from Chicago, Illinois. SWD Inc. has created a tradition of exceptional production quality, complete customer satisfaction and continuing commitment to environmental conservation.
SWD Inc. was the first metal finishing and fastener sorting company in the U.S. to receive ISO 14001 certification. SWD Inc. is the largest black oxide shop in the Continental United States. We have specialized in black oxide for over twenty five years. Other names for black oxide are: black penetrate, black magic, black n, and gun bluing. Please contact us at (630)-543-3003 for a quote or any information regarding our plating, metal finishing, or coating systems.
Vision Statement:
To be recognized as the premier metal finishing, coating and sorting company.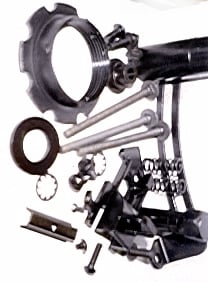 Mission Statement:
SWD Inc. will provide superior value through service, quality, innovation, and technical expertise; consistently meet or exceed customer expectations; be a leader in environmental conservation and community stewardship; promote employee growth, safety, and responsibility, thereby enabling employees, the company and our customers to continue to grow and prosper.

Quality Policy:
SWD Inc. will provide defect-free products and services that satisfy the requirements of its customers on time, every time. Every employee is a part of our quality system and we will actively pursue constant improvement that enables every employee to do their job right the first time.

Environmental Policy:
SWD Inc. will not knowingly operate outside environmental regulatory requirements. SWD Inc. is committed to the prevention of pollution and continuous improvement. To that end every environmental aspect will be monitored to meet regulatory requirements and evaluated for opportunities to move beyond compliance.
Supplier Directory Categories