About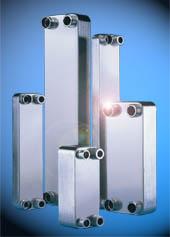 SWEP is a rapidly growing international company in the heat transfer field. Decades of creative work, leading-edge competence and committed SWEP people have resulted in the world's most effective offer of products. World-leading within its field, SWEP constantly advances the front line in order to be able to use the very latest technology. SWEP's aim is constantly to offer its customers excellent performance, economy and service.

Today, SWEP is close to its customers, with representation in more than 50 countries and its own dedicated salesforce in more than 20 countries. Highly efficient production units in Sweden, Switzerland, USA and Malaysia make it possible to serve customers all over the world. The company is part of the global Dover Corporation.

SWEP's Compact Brazed Heat Exchanger (CBE) is one of the most efficient ways to transfer heat from one medium to another. The modular product concept, with totally customizable parts, means the right product solution for every application can always be found.
Supplier Directory Categories
SWEP North America is also listed in these categories: