Profile Home
About

Savant is a manufacturer of Automatic Guided Vehicle (AGV) Systems. We are a 'full-service' AGV business. We develop our own technology, manufacture our AGVs in-house, provide the software required, install and provide all aftermarket support for our many customers.

Unlike Savant, other suppliers license core technology from disconnected 3rd parties. Ownership and control of our technology ensures our customers are not exposed to the support and obsolescence risks that can cripple system from other suppliers in future years.

Our vehicles follow a map in their memory. Our 'virtual path' navigation does not employ vulnerable floor tape, does not utilize line-of-sight dependent reflective targets or rely on easily blocked natural features (walls). Nor is it vulnerable to lighting conditions, dust or humidity conditions that compromise the operation of laser, lidar and vision type navigation technologies. Savant 'virtual path' navigation eliminates costly AGV downtime and system stoppages due to navigation reference vulnerabilities.

Our business began with our invention of the AGV in 1953 when our name was Barrett Electronics. For over 70 years we have provided robust, easy to maintain/change, affordable, labor saving automated vehicle systems for a wide range of applications in factories, warehouses and hospitals.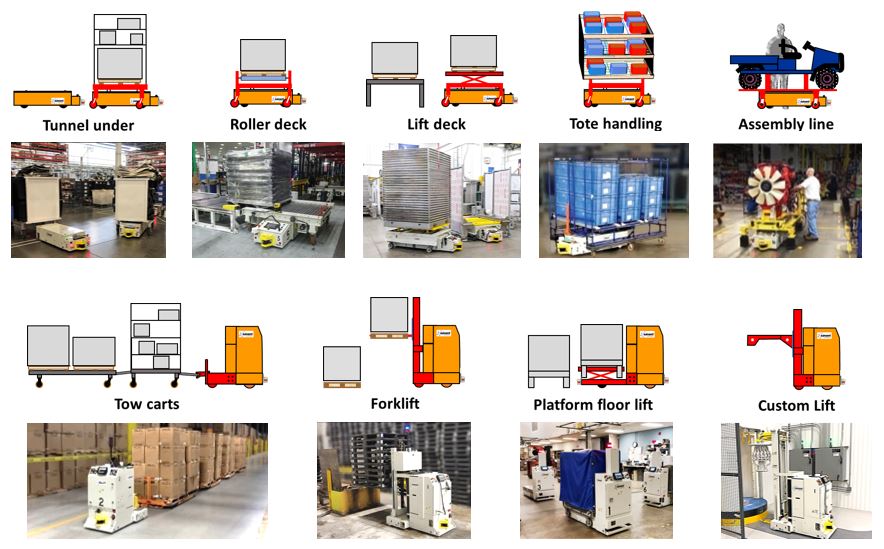 Visit Savant's video library at:
AGVsystems.com - System Videos

Savant's attachment-configurable AGV chassis provides the versatility to use our AGVs for a wide range of load handling applications.

System control capabilities include remote AGV call & dispatching, interface to other automation, integration to upper-level production systems (MES, WMS, PLC, etc.)
Technical Articles