About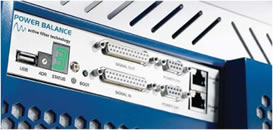 Active Harmonic Filters - designed to meet IEEE-519
Our cost-effective Power Quality and Power Factor Correction modules are scalable to any current & voltage requirements. Improves efficiency while reducing harmonic pollution from VFDs and other non-sinusoidal equipment.
The PB-SERIES is an active harmonic filter system for tower buildings as well as automation, windturbine and various other industrial applications eliminating harmonic oscillations and consequently costs for reactive energy. The filter monitors the current signal and compensates for the unwanted elements of the measured current. Thus, the filter ensures a harmonic suppression independently of the number of loads. Furthermore the filter corrects the power factor, improving the systems' efficiency while reducing harmonic pollution.
Features:
Modular system 60 A to 300 A extendable
Harmonic compensation for 3-wire and 4-wire technology
Up to 50th harmonic each individually selectable
Ultrafast reactive power compensation
Flicker compensation
Load balancing between phases and unload neutral wire
Grid resonancy detection
Ethernet and Ethercat system for interconnection
Subsystems Display control unit, Active sensor unit, ModBus, PQ Analyzer
http://www.schaeferpower.com/content/content/active-harmonic-filter
Custom AC Drives (250KW 8MW)
AC-AC Converters (1.5KW to 8MW+)
Liquid Cooled Power System for Wind Turbines with permanent magnet synchronous generator (up to 8MW)
Liquid Cooled Electronic Loads (DC&AC)
DC/AC Inverters
DC/DC Converters
AC/DC Power Supplies
COTS, MOTS, & Custom
Please contact Jeff Roffee (Director of Power Systems) at jroffee@schaeferpower.com or at 508-435-6400 x 119 for additional information.
Supplier Directory Categories