About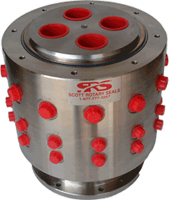 Manufacturer of Rotary Unions
and Rotary Timing Valves
Specializing in Custom Designs since 1960...
Since 1960, Scott Rotary Seals® has solved a wide range of challenging industrial applications as a result of our design and manufacture of Rotating Unions and Rotary Timing Valve (RTV®) products. These are also known as rotary couplings, manifolds, rotary joints, rotary seals and sequencing valves.
At SRS we are focused 100% on designing RTV & Rotary Union products. We have complete in-house design and manufacturing capabilities and we continue to stay on top of the cutting edge sealing technology. This allows us to provide our customers with practical and imaginative mechanical engineering solutions using flexibility in design, material selection and manufacturing techniques.
With our commitment to quality and customer satisfaction in mind, take a look at some examples of solutions we have provided on our Custom Products page. We look forward to answering your questions and solving your rotary sealing problems.
Rotary Timing Valves
Rotary Timing Valves provide flow and pressure from a stationary input to a rotating output, and provide on/off flow control where a fixed sequence pattern is maintained. This valve can replace conventional methods used to control flow, such as cams, solenoid vales and switches. They are commonly used on multiple position index tables which repeat the same cycle through every rotation.
The stationary component of the valve has the timing sequence machined into the sealing surface. As the rotating outlets pass through the timing sequence, flow is automatically turned on and off depending on their orientation.
Typical applications:
Automatic part clamping in assembly machines
Actuation of mechanical devices such as part ejection
Vacuum chucking for silicon wafer systems or plastic handling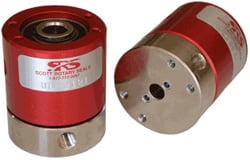 A rotary union is used to transfer liquids and gases from stationary supply lines to rotating equipment. The media flow through a rotary union is continuous and uninterrupted. External valves are needed to control the flow. All of the passages are independent, so SRS rotary unions are suitable for transferring both fluids & gases through the same rotary union without cross contamination.
Typical applications:
Coolant Flow
Air or Hydraulic motors
Bi-directional Pressure flow
Supplier Directory Categories
Technical Articles