About

For more than a quarter of a century, Sealeze has focused on providing quality brush products and services that exceed their customers' expectations.

Sealeze was created in the mid-1970s to introduce strip brush as a weatherseal in the United States. Initially, Sealeze brush products were manufactured in the UK. However, with their commitment to service and customer satisfaction, business quickly grew to where manufacturing capabilities located in the US were necessary. Currently, they are in their third, and largest facility, with plenty of room for growth. All of their strip brush products are manufactured in the U.S.A in their Richmond, VA. factory. Located in the Mid-Atlantic region, they are near major transportation routes, both North/South and East/West.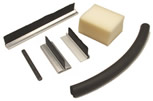 On February 9, 1999, Sealeze was purchased by Jason Incorporated, and became part of the Jason Brush Group. Jason is comprised of manufacturing companies in a variety of industries. The Jason Brush Group consists of Sealeze, Osborn International North America, and Atlanta Brush Company. In addition, there are other manufacturing and sales offices throughout the world that are part of Osborn International, International Operations. All together, the Jason Brush Group is the world's largest brush manufacturing organization.

While Sealeze's initial focus was brush weatherseal, today they are a leader in providing brush solutions to a broad range of industrial applications. They manufacture strip brush in the most sizes, filament types and materials. And, their extensive forming capabilities enable them to provide custom-formed shapes to meet specific application requirements.

Like most successful companies, Sealeze's employees are the heart of their organization. At Sealeze, they all have one focus: meeting their customers' needs for brush products and exceeding their expectations for service and quality. They operate under the ISO 9001-2000 Quality Management System to aid them in manufacturing the highest quality product every time. And, Sealeze strives to ship every order on time, day in and day out.
Supplier Directory Categories
Sealeze is also listed in these categories: