About
NEW! Fastest 3D Scanhead:

Increase Scan Speed 10x!
---
ShapeGrabber designs, manufactures and sells industrial 3D laser scanners for dimensional measurement. A ShapeGrabber 3D laser scanner is ideal for measuring complex shapes that are otherwise too time consuming, costly, or simply impossible to measure. It is fast, accurate and very easy to use, providing full-part scan data in just minutes.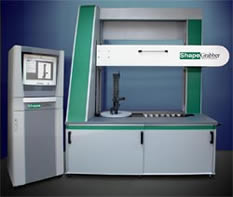 ShapeGrabber 3D scanner technology is now in its 5th generation and has been validated to:
Improve quality process efficiencies up to 30%
Increase production yields up to 30%
Reduce production time up to 30%
The dimensional data captured by a ShapeGrabber 3D laser scanner is processed and analyzed by leading 3D scanning software, such as Geomagic® or PolyWorks®.
ShapeGrabber 3D laser scanners are used in a wide variety of industries, such as:
Automotive
Aerospace & Defense
Medical & Health Sciences
Consumer & other Industrial products
A ShapeGrabber 3D laser scanner is the ideal tool to measure the dimensions of parts, compare parts to CAD models, extract cross sections, and perform GD&T analysis. Ideal target applications include:
Injection-molded or blow-molded plastics
Metal castings
Metal stampings
How ShapeGrabber 3D Scanners Work
ShapeGrabber 3D scanning systems utilize the accuracy and speed of lasers to precisely render every external feature of an object into a three dimensional model, regardless of how complex the object's shape may be. Applications for a ShapeGrabber laser scanner include part inspection, prototyping, reverse engineering and archiving.
If your requirements call for precise shape capture, ShapeGrabber has a 3D laser scanner that will meet your needs.
ShapeGrabber's state-of-the-art 3D laser scanners are the next generation in optical non-contact measurement systems. Considered to be one of the industrial pioneers in the field, ShapeGrabber has been supplying industrial 3D laser scanners for more than 15 years.
Supplier Directory Categories
ShapeGrabber is listed in these categories:
Technical Articles


3D Inspection of the Inside of a Part
(Inspection Tools and Instruments)
Manufacturers who use a 3D scanner in their quality inspection processes sometimes need to inspect the inside of a part. In such situations, 3D scanners are an excellenct choice when used along side... (
View Full Article
)