Profile Home
About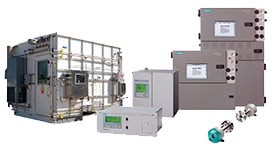 From analytical products to process measurement solutions
Siemens utilizes advanced and proven analytical products and measurement systems to improve process control, optimize quality, monitor process safety and comply with environmental regulations. We offer a wide range of continuous gas analyzers, process gas chromatographs and provide turnkey analytical solutions for optimum cost of operation, simplicity and longevity. Siemens technical support teams support you throughout the measurement system life cycle.
Process analytics system solutions
At Siemens, we select leading edge products best suited for your measurement task and utilize process analyzer engineering expertise to define, engineer, and provide comprehensive measurement solutions. Our solutions address the issues of life-cycle, long term performance measurement system simplicity and maintainability.
Read our Solutions for Process Analytics brochure to learn more about Siemens Analytical Products and Solutions customized for every analytical task.
The One-Stop Shop discusses process instrumentation, process analytics, weighing technology and how to optimize processes with our automation and instrumentation portfolio. Benefit from the versatility of our holistic solutions for your process tasks with integrated solutions from a single source.
Technical Articles