About
Who They Are
Signatec, a CCR registered small business, is a leading designer and manufacturer of high-speed, PC-based data acquisition, signal processing, signal generation and data recording systems. Signatec works with its customers to build affordable, real-time solutions for advanced radar, ultrasound, imaging and communications applications.
What separates Signatec's products from any other similar product in the industry is the ability to acquire and transfer data simultaneously with no breaks in the analog record for data rates up to 700 million bytes per second, when transferring to the PC, and up to 1 GB/s when acquiring to the Signatec Auxiliary Bus (SAB) to other system devices, such as Signatec's DSP products, for real time processing.
700 MB/s Recording Systems with No Data Loss
Signatec's state-of-the-art high-speed waveform capture products transform near-real time PC environments into high-speed, real-time data recording (DR) systems. Signatec's high-speed DR-series systems are capable of continuously recording up to 700 million samples per second direct to disk storage without any loss of data.
Leveraging high-performance commercial-off-the-shelf (COTS) technologies and its 18 years of advanced signal technology experience, Signatec engineered the powerful DR-series to be both an affordable and flexible recording solution. Up to 12 synchronized acquisition channels can be housed in one system.
250 MB/s, 350 MB/s and 700 MB/s Data Recording Systems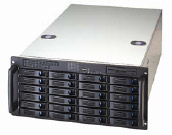 Continuously Digitize and Record Data to Storage in Real-Time with NO Data Loss
Data Recoding Rate Options of up to 250 MB/s, 350 MB/s and 700 MB/s
Single Chassis Solutions with up to 18TB of Integrated Disc Storage
1-6 Channels, 8-bit A/D Resolution, 1 GHz Sampling Per Channel
1-6 Channels, 14-bit A/D Resolution, 200 MHz Sampling Per Channel
2-12 Channels, 14-bit A/D Resolution, 100 MHz Sampling Per Channel
1 GB/s Real-Time Wideband Signal Processing Systems
Signatec's parallel DSP product, the PMP1000, delivers 72 GIPS of real-time processing performance using nine of TI's C6414 DSPs, the perfect solution for many demanding processing applications. This parallel DSP product also provides over 2000 MB/s of concurrent onboard I/O and the ability to combine any number of customer-specific channels of data for up to 1 GB/s of continuous data input.
Flexible 1 GB/s Wideband Real-Time Signal Processing Systems
| | |
| --- | --- |
| | Signatec A/D products connect to PMP1000s via the SAB for up to 1 GB/s of continuous I/O. PMP1000 processing modules can scale appropriately to match the per unit processing capability with the total system I/O load. Each PMP1000 has 72 GIPS of processing performance and 2 GB/s of concurrent onboard I/O transferability. |
PMP1000 Plug-in module with customizable FPGA gives custom applications all around flexibility for general purpose communications with:

RJ45 Connectors for Gigabit Ethernet and RS232 Definable 26-pin Digital I/O Header with Direct Pin Connections to onboard FPGA
Open Source Virtex-4 FX-12 FPGA with Power PC
Logic Files Provided by Interfacing to PMP10000 Board

Ideal for applications that must inject time or position information into digitized signal data records the PMP1000 is processing.
Signal Waveform Playback Systems
Signatec's New PDAC4000 arbitrary waveform generator board completes Signatec's line-up of performance system solution products. With its four channels of output at up to 1 GSPS, 512 MB of onboard memory, advanced high-speed continuous playback mode (even from disk storage at over 500 MB/s) and options for onboard embedded processing, the PDAC4000 delivers the performance and flexibility required for most signal generation applications. Used either as a standalone waveform generator or as a component within a larger system incorporating Signatec's A/D, signal processing and storage products, the PDAC4000 adds value to any project requiring high-frequency signal generation solutions.



4 Channels, 16-bit Signal Waveform outputs at 1 GHz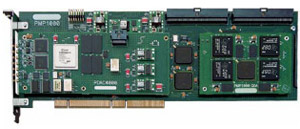 Signatec's DAC Systems deliver:
Four Channels of 16-bit Analog Output at 1 GHz
512 Megabytes of DDR RAM
Easy Interface to DSP Functionality (Optional)
Wide Selection of Signal Output Processing Features
Based on Analog Devices AD9779
Interpolation at 2, 4, or 8x Data Rate and On-Chip Analog Filtering
Digital Quadrature Modulator
Fully-Integrated Signal Technology Systems
Signatec understands how to take non-real-time COTS components and effectively create real-time data acquisition, recording, signal processing and waveform playback solutions that are not only powerful, but cost effective as well. This effective real-time system creation from otherwise non real-time performance components is the real brilliance behind Signatec's engineered system solutions and is what separates Signatec's systems from other commercially available options.
Real-Time Acquisition, Recoding, Signal Processing & Waveform Playback Systems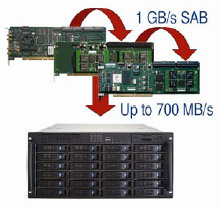 Signatec's signal acquisition, processing, recording and playback systems are not mutually exclusive. All can be combined in various configurations to create all-in-one recoding, processing and playback systems.
Signatec's board-level products are designed to create fully-integrated, high-speed, signal technology solutions while leveraging the best COTS components available.
When you factor in all of Signatec's performance capabilities, and note the comparable low cost of their boards/systems, Signatec delivers exceptional value for the high-speed signal technology community.
Partner with Signatec for Advanced Signal Technology Solutions
Serving High-Speed Signal Industries Since 1988
Signatec strategically aligns with appropriate partners to design leading-edge custom solutions. Whether in aerospace, defense, non-destructive testing or medical imaging industries, Signatec's passion is to deliver the most advanced solutions at an appropriate price. If they don't already have it, they can build it with you!
Supplier Directory Categories
Signatec, Inc. is listed in these categories: