About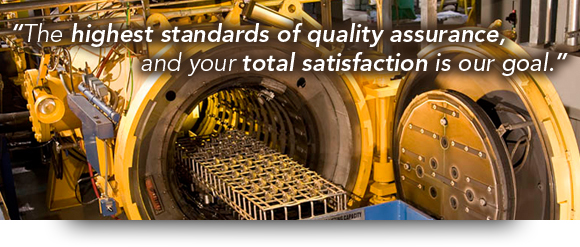 Unsurpassed quality and capacity for the vacuum heat treating and brazing of metal parts
Solar Atmospheres specializes in vacuum heat treating, vacuum brazing, vacuum carburizing, vacuum nitriding services and thermal processing research & development.
Solve your metal processing challenges with our advanced technical expertise, world-class equipment, and quality assurance. Contact us today to learn how you can benefit from our:
3 plant sites — Souderton (Eastern PA), Hermitage (Western PA) and Fontana, California serving over 18 industries including Aerospace, Medical, Power-Gen and more
Over 40 furnaces with advanced ten to twenty bar quenching from lab-sized to one of the world's largest commercial vacuum furnace (up to 40+ feet long with a 150,000 pound capacity)
Continuously upgraded, state-of -the-art furnace technology from sister company Solar Manufacturing led by CEO William R. Jones a pioneer in the field of vacuum furnace technology
Expert metallurgical consultation and R&D services for custom processes and unique challenges
Quality results and coast-to-coast, 24/7, responsive service
On-site laboratory for hardness and microhardness testing
With over 40 vacuum furnaces from lab-sized to 40+ feet long, Solar can efficiently vacuum heat treat your small or large metal parts to the most stringent specifications. Tap into our unmatched, quality, technical expertise and responsive, 24/7 service. Make Solar your Metal Processing Advantage!
Supplier Directory Categories
Solar Atmospheres, Inc. is also listed in these categories:
Technical Articles