About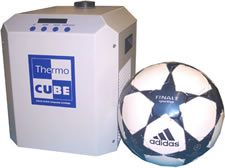 Solid State Cooling Systems designs and manufactures compact liquid recirculating chillers and temperature control systems based on trusted thermoelectric technology. Their small liquid chillers provide precise, reliable temperature control for the laser, semiconductor, medical industries as well as custom, laboratory and military-related applications.
Solid State Cooling Systems focuses on compact size, precision temperature control, reliability and energy efficiency for 100 to 6000 Watt applications. Their tiny 150 Watt Oasis chiller can fit in your hand, while the whisper-quiet 300-600 Watt ThermoCube chiller is just larger than a soccer ball.
Solid State Cooling Systems is a customer-centered company founded in 1994 in rural upstate New York. The original focus of the company was to utilize thermoelectric technology as the basis for its chillers and heat exchangers because thermoelectrics inherently provide reliable and precise temperature control in a very small package.
Today, customers must also focus on the cost of energy and the environmentally damaging effects of Freons and their replacement refrigerants. Since Solid State Cooling Systems' products reduce energy usage by up to 94% and use no refrigerants, they have been an important part of their customer's cost-savings programs.
Solid State Cooling Systems' in-house manufacturing and development competencies have resulted in multiple product families with numerous patents awarded and pending. They grow both by developing new products they see are needed in their marketplace, and by developing unique products for their customer's specifications using their flexible family of variable voltage power supplies, thermoelectric heat exchangers and digital temperature controllers.

Many of Solid State Cooling Systems' customers' names appear on the Fortune 100 list of America's most successful companies. While they have earned the respect of these large corporations, they recognize it is the individual engineers and technicians within these corporations as well as the small manufacturers and universities and laboratories that they serve.
Supplier Directory Categories
Solid State Cooling Systems is also listed in these categories:
Technical Articles