About

StellarNet Inc. has been developing instrumentation for spectroscopy for a variety of analytical applications for over 20 years. Their new generation of rugged, low-cost, miniature, fiber-optic spectrometers can be used for spectroscopy in the lab, process control applications in the factory, or remote sensing in the field. Modular designs allow for measurements in the UV, Vis, and NIR spectral ranges.
These high-performance, low-cost, and flexible systems enables their use within multiple applications, including but not limited to:
SpectroColorimetry SpectroRadiometry & Solar Metrology
Transmission, Absorbance, Reflectance
Fluorescence Spectroscopy
Chemical Concentration Analysis
LED, Laser, and Lighting Measurement
Elemental Analysis
UV Monitoring
Thin Film Thickness & Optics Measurement
Raman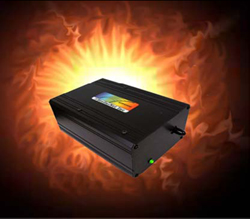 StellarNet's headquarters is home to their extensive engineering, production, and systems integration facilities where the spectrometers and integrated computer systems are designed, assembled, and tested. StellarNet's Application Engineers are systems integration experts and can help you configure the system to suit your needs. They understand that successful implementation of all applications requires industrial strength components and demands extensive analytical know-how to provide unmatched reliability and performance.
StellarNet's Products:
Miniature Fiber-Optic Spectrometers
Light Sources
Spectroscopic Accessories
Fiber Optic Probes
Laser Induced Breakdown Spectroscopy (LIBS)
Research-Grade Concave Grating Spectrophotometers
NIR (InGaAs) Spectrometers
Supplier Directory Categories
Technical Articles