About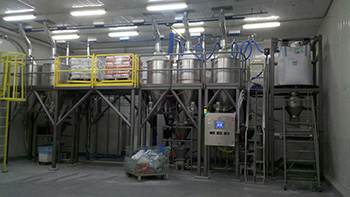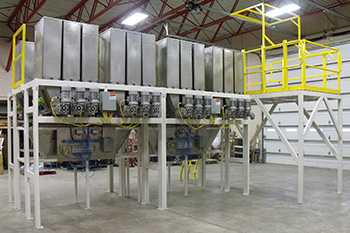 Sterling Systems & Controls, Inc. has over 40 years of experience and a unique industrial application knowledge base. Our reputation is earned. We are a premier provider of efficient solutions for automated batching systems, weighing, bulk bag unloading, process controls, and plant automation. Just need to focus on improving a portion of your process, or need full production automation? Whether materials receiving, internal flow, up/downstream equipment control, batching, weighing, loadout or entire plant automation systems, we are a premier provider.

Sterling Systems & Controls provides process equipment hardware, automation software using PC's or PLC's, control panels, MCC's and onsite service. We can deliver you a turn-key solution, or just provide you with one or more pieces. Sterling Systems & Controls is also a UL listed certified control panel builder for the USA and Canadian markets.
Unique to Your Process
Sterling Systems & Controls, Inc. will create customized systems based on your exact needs. No systems solution is the same.

Today, our state-of-the-art designs utilize the latest technology specializing in powder batching systems, data management, raw material and production data tracking. Sterling's software and electrical engineers design complete processing systems automation for various industries. These systems include automated batching systems, complete plant automation, modular weighing systems, and upstream/downstream equipment including raw material handling systems, conveyors, and post batch material handling systems. Also provided are process controls, motor control centers, control panel fabrication and general automation utilizing many hardware and software platforms. Specializing in batching systems, material weighing systems, and plantwide systems automation is our forte. Sterling provides the best single-source solutions due to our eye for details and a well-rounded history of working with the feed, food, baking, industrial, chemical, plastics, and agricultural industries.

We also can integrate the automated process control system with your general business system. And if you need remote monitoring of your control system data, we can provide this capability with our WebCentral software application. WebCentral is a browser-based application that allows you to access the database of the automated control system. You can review and print historical reports and change system parameters from a remote PC, so long as the PC resides on the same network as Sterling Systems automation control system. Because WebCentral is browser-based, it is very simple and intuitive to use. It is ideal for applications where a variety of individuals need to access information from the control system in a secure, reliable and simple manner. In this application of WebCentral, the user could remotely view reactor data in graph form, change system parameters, and search for, view and print historical data.

We offer services for OEM's and end users alike.

We are a member of the IMI Family of Companies
We are proud to be one of the companies in the IMI Family that provide our customers with industry-leading bulk processing solutions and more.



Supplier Directory Categories
Technical Articles

Automated Conveying and Grading System
(Material Handling Equipment)
Develop and size a conveying/sifting system capable of unloading bulk bags of coarse granulated sugar at a customer specified rate and grading the product into three mesh sizes for future process... (
View Full Article
)