About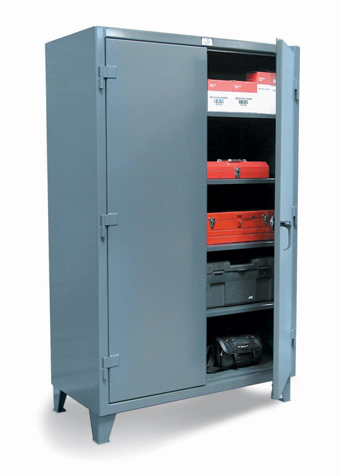 Strong Hold Products manufactures a complete line of heavy-duty storage equipment. Our industrial strength products include storage cabinets, tool carts, shop tables and desks, paint cabinets, computer cabinets, and many others.

Constructed of durable 12 GA, (with stainless available), 400 lb capable drawers and shelves, along with 3-point lock systems, ALL of Strong Hold Products are designed to withstand the harshest environments while keeping your valuables protected.

With a wide variety of accessories and options, Strong Hold Products will customize a solution that is right for you.

Why Strong Hold?
Our production methods allow us to pass savings on to you. Strong Hold Products' cabinets are comparably priced to competing light gauge steel cabinets, yet provide a far superior, long lasting product. There are no minimum order quantities and most stock items ship in 48 hours or less.

Durability
Strong Hold is dedicated to providing the most durable cabinets available. We only utilize 12 GA steel in the construction of our products, it is then sheared, formed, welded, steam-cleaned, and then painted to produce a solid, strong, and dependable cabinet. SHP is the only industrial storage manufacturer that utilizes a WRAP-AROUND body design that increases strength by minimizing welds.

Safe & Secure
Our three-point locking system is designed for use with a heavy padlock. This feature, along with our cast handle and 8 GA, compliments the 12 GA welded design. Strong Hold also offers many locking options such as a key card reader, barrel lock and keypad locking mechanisms.

Fully Assembled
Our cabinets are shipped completely assembled and ready to use. There is no lost time for shelf installation or setup.

All of our products are proudly made in Louisville, KY U.S.A.
Supplier Directory Categories
Strong Hold Products is also listed in these categories: