About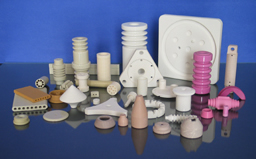 Celebrating over 100 years of manufacturing excellence in the field of ceramic technology.
Superior Technical Ceramics Corp. (STC) has complete in-house capabilities to design, engineer, tool and manufacture technical ceramics to customer requirements. They specialize in prototype through production quantities of ceramic parts used in thermal shock, wear, corrosion and electrical insulation applications. Materials include alumina, zirconia, zirconia toughened alumina (ZTA), cordierite, steatite, mullite, lava, boron nitride and Macor.
It is Superior Technical Ceramics Corp. goal to provide the highest quality, most cost-effective solution to your toughest engineering requirements for specialty materials components and applications.

STC is a privately owned company with just over 100 employees and 115,000 square feet of office and manufacturing space. They are just the right size to provide high and low volume runs without losing sight of customer service and satisfaction.

STC will assist you with design and engineering of your ceramic parts requirements
Superior Technical Ceramics manufactures custom technical ceramic parts and components, covering a wide range of customer requirements. They make use of several forming and machining techniques to process components made from alumina, zirconia, zirconia toughened alumina, steatite, mullite, cordierite, grade A lava, Macor®, and boron nitride. These materials may be used in applications that require wear or corrosion resistance, high temperature capability, or ceramic insulators for electrical resistance.
In addition, Superior Technical Ceramics stocks several standard ceramic parts, such as alumina tubes, alumina plates, standoff insulators, alumina bolts, nuts and washers, alumina fish spine beads, as well as machinable ceramics.

Besides manufacturing technical ceramics, Superior Technical Ceramics can provide a range of custom materials and engineering services. Their affiliate company INTA Technologies can provide specialty plating and metallizing, machining of specialty metals and other hard materials, as well as assembly work. In addition, their partner company, Oasis Materials, manufactures multilayer ceramics including co-fired Aluminum Nitride (AlN) Heaters. Superior Technical Ceramics has also partnered with Anderman Ceramics, who stocks standard tubes in various sizes.
Supplier Directory Categories
Superior Technical Ceramics Corp. is also listed in these categories: