About
Synapse Wireless® provides wireless communication technology for the control and monitoring of physical devices interfaced to the digital world. Synapse offers a complete wireless solution, including the hardware, software and design services needed to help you design a superior product.
Synapse's core technology is called SNAP®, an auto-forming mesh network (IEEE 802.15.4 protocol) combined with an embedded Python interpreter (supporting XML-RPC) for running application code.
The SNAP network is used to monitor and control real world situations, such as the energy infrastructure, homeland security systems, commercial irrigation systems, wastewater management, seismic monitoring, HVAC, Advanced Metering Infrastructure (AMI), medical drug carts, and many more.
Synapse's impressive technology is not complicated to use. There is no setup required and application development is as easy as writing Python™ scripts. You do not have to understand the network details, only what you want your application to do. This unique approach to real world ease-of-use is evident in how quickly their customers have developed solutions. No embedded programming skills or complicated debugging tools are required.
Synapse's technology includes:
RF Engines™ – Radio Frequency (RF) hardware modules with the best range in the industry
SNAP – software that provides a low-power, mesh network automatically
Portal® – an application software development environment that allows you to control every hardware pin using a high level scripting language called Python
SNAPconnect – Internet or LAN accessibility to communicate remotely with your SNAP network
Design Services – design, engineering and manufacturing services for expert help in wireless technology
SNAP networks are self-forming, which means that the network establishes itself – when a new SNAP node is powered up, it is automatically integrated into the network. These networks are also self-healing – if a node catastrophically fails for any reason, other nodes automatically route signals around the failed node.
Unlike conventional mesh networks, SNAP nodes can communicate directly with each other with no need for special router nodes. There is no central point of failure; and routes between SNAP nodes do not have to be pre-configured by the user.
Synapse's Portal is a software environment that runs on a Windows or Linux PC; it can be used to develop applications and deploy them "over-the-air" to SNAP Nodes. Portal configures and manages the network as required, and provides additional functions such as data logging, event monitoring, and debugging. Applications can be developed and/or modified in Portal using Python. AES encryption provides additional security for more challenging operational environments.
Hosted either locally or across the Internet, Synapse's SNAPconnect provides a seamless interface between devices on a wireless SNAP network and client applications (using standard XML-RPC protocol over HTTP). Interaction between applications and the SNAP network is simple, fast and based on well-known standards and popular programming languages.
Synapse can help you implement wireless network solutions quickly and reliably. Synapse's experienced software and hardware engineers can provide comprehensive design and implementation support for your wireless applications – whether for a specific problem, or to assist during your entire product development cycle.
With Synapse you can get your wireless products into the market faster than any other approach in the industry. They can help you meet your own customer's needs, including such goals as energy savings, increased productivity, reduced maintenance costs, or rapid return on investment. Synapse's wireless technology can be deployed in any application that requires remote monitoring and control of machines, sensors or processes.

Synapse will change the way you think about wireless mesh networks. Call Synapse today: 1-877-982-7888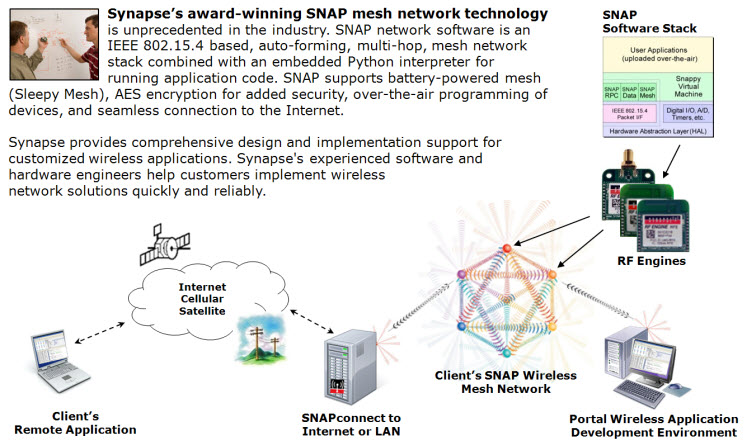 Supplier Directory Categories
Synapse Wireless is also listed in these categories:
Technical Articles