About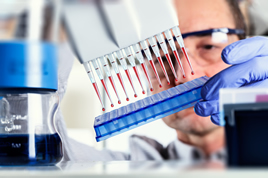 TTE Laboratories has been providing excellence in pipette calibration and repair since 1989. TTE's Metrology-driven approach is shared by our entire staff, and promoted throughout our organization (see for example, the training regimen of our dedicated pipette calibration specialists).
With a strict compliance to the critically important ISO 8655 standard, TTE Laboratories continues to exceed client service expectation. Where many struggle to meet GMP/GLP standards or those regulatory compliance standards of the FDA, CLIA, and CAP, TTE Laboratories continues to provide the most comprehensive and reliable measurement service program available for piston pipettes.
TTE Continues to Innovate EZCal™ and EZCal Complete™
Our breakthrough Solutions make shipping time irrelevant. Customers far from TTE's state-of-the-art, ISO 17025 and ISO 8655 compliant lab (take a virtual walk through) can now benefit from our accuracy just as well as a client up the street. Both Solutions provide free pipettes so that while yours are in transit, you can continue to operate with your normal number of pipettes. And while they also offer free 24-hour turn around and free shipping, neither solution costs you anything extra to use.
GMP Select
TTE Laboratories is the only company that provides an integrated approach to laboratory liquid handling that consistently delivers the most accurate results for the lowest lifetime cost: the GMP Select™ line of products and services. With GMP Select products and services, TTE customers will see:
reduced cost, with the EON S "forever pipette";
improved productivity, with our comprehensive pipette performance training program; and
improved science, with calibration that meets the ISO 17025 and ISO 8655 standards
With TTE Laboratories, you no longer have to trade calibration accuracy and reliability for outstanding convenience and price.
Supplier Directory Categories
Technical Articles

10 Ways to Prevent Pipetting Errors
(Sample Preparation and Liquid Handling)
Accuracy matters in science and TTE's Accuracy Matters blog reports on all things related to pipetting accuracy: best pipetting practices, pipette error prevention, regulatory compliance,... (
View Full Article
)