Profile Home
About
High Performance ICs - For High Temperatire, Harsh Environments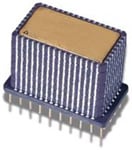 TT Semiconductor offers a portfolio of components intended for high temperature and harsh environmental applications. The components are fully characterized at high temperatures which enables a design engineer to eliminate characterization at the component level. TT Semiconductor also understands the need for a long term supply chain and has a business model to support this.
TT Semiconductor is the leading manufacturer of electronic components designed to survive under extreme temperature ranges and harsh environmental conditions. The current standard product offering is focused on high performance analog and memory devices that will operate at temperatures of 200C.
TT Semiconductor is a newly formed division of Twilight Technology. Twilight Technology was founded in 1994 to serve the custom high temperature, harsh environment semiconductor market. Subsequent growth and steady investment in facilities and equipment permitted Twilight to segment the business into the ruggedized standard products division, TT Semiconductor, which included a broadening in the standard product offering to Analog devices.
The backbone of the company is its mission statement: Total Customer Satisfaction. This mission is accomplished through products that offer great value and are supported and guaranteed to an industry best product warranty. Factory applications engineering and a worldwide network of sales offices and representatives are ready and available to assist with any customer requests.