About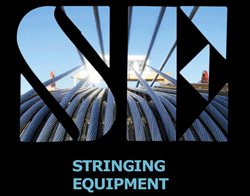 Tesmec Group mainly operates in the market of infrastructure for the transport of electricity, data and materials (petroleum and derivatives, gas, water), a strategic area for growth and modernization of each Country.
Tesmec Group is mainly active in the design, production and marketing of integrated solutions for the construction and maintenance of infrastructures such as aerial and underground networks and pipelines.
The Group, founded in 1951 and led by the Chairman and Managing Director Ambrogio Caccia Dominioni, can rely on a workforce of more than 350 employees, has four manufacturing units; three in Italy, in Grassobbio (Bergamo), Endine Gaiano (Bergamo), Sirone (Lecco) and one in the United States, located in Alvarado (Texas), and it is specialized in the design, production and marketing of:
machines and integrated systems for the stringing of power lines, fiber optic cables and electric power lines for railways;
high powered tracked trenchers for linear excavation of underground networks and pipelines or bulk excavation and, to a less extent, Gallmac multipurpose machines.
In addition to these traditional businesses, Tesmec is increasing its market presence in two new market segments: Power Grid's efficiency improvement & management and Offer of Digging Specialist Services.
Tesmec Group, always hallmarked for its considerable commitment given to research and development works on leading-edge technological solutions, is one of the worldwide leading manufacturers, in terms of revenues, in the field of stringing aerial high voltage power lines and in the field of high-powered trenchers for linear excavation in set section.
Supplier Directory Categories
Tesmec USA, Inc. is also listed in these categories: