Profile Home
About
Texas Instruments serves the world's most innovative electronics companies, helping them develop new ideas that change the way we live. By providing semiconductor technologies that promote greater power efficiency, enable more features, enhance performance and deliver more value, TI expands the possibilities every day for how we learn, connect, grow and discover.
Analog

With the broadest range of innovative analog chips on the market, TI helps 90,000 customers tackle design challenges so they can create and deliver high-quality electronic products to their own customers. We create innovative integrated circuits for industrial, automotive, energy, medical, safety and security applications, and for consumer products that improve the quality of life. For example, we create data converters that improve the accuracy of industrial test equipment, amplifiers that sharpen image and audio quality in surveillance cameras, interface chips that speed downloads of high-definition video files, and analog front ends that make smaller ultrasound equipment possible. Click here to learn more about our Analog business.
Power Management
Data Converters
Amplifiers
Audio
Clocks & Timing
Interface
Isolators
Logic
Sensor Products
Switches & Multiplexers
Embedded Processing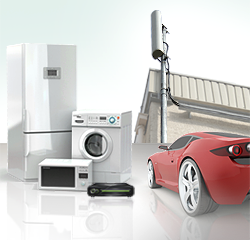 Embedded Processing products are the "brains" of many electronic devices. Unlike general purpose processors, embedded processors are designed to handle specific tasks and can be optimized for various combinations of performance, power and cost, depending on their application. TI's Embedded Processing products are used in many end markets, particularly industrial and automotive, and in equipment as diverse as electric toothbrushes and complex wireless base stations.
TI's portfolio of embedded processing solutions, software and development tools, and responsive design support help our customers create differentiated embedded solutions. Products span, microcontrollers (MCUs), ARM®-based processors, digital signal processors (DSPs) and multicore ARM + DSP solutions, delivering broad range of performance, power, peripheral options to address today's fastest-growing markets. Click here to learn more about our Embedded Processing business.
Low Power MCUs
Performance MCUs
Safety MCUs
Sitara Processors
Keystone Multicore Processors
Wireless Connectivity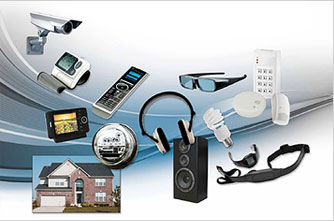 TI has shipped millions of wireless connectivity devices over the last 15 years. Through this legacy, TI offers wireless connectivity solutions for any application across all the major standards and technologies. Including wireless microcontrollers (MCUs), TI wireless connectivity chips help you easily connect more. Whether you are designing for industrial, automotive or the Internet of Things TI has a low power solution for you. Click here to learn more about our Wireless Connectivity Business
SimpleLink™ Solutions: broad device offering for all technologies and system partitioning
WiLink™ Solutions: High-performance Wi-Fi + Bluetooth® / Bluetooth low energy combo
SUPPORT AND ADDITIONAL INFORMATION

Sign up for a myTI.com account today. Improved functionality, centralized activity and an enhanced personalized experience.
TI reference designs
Find reference designs leveraging the best in TI technology – from embedded processors to analog signal chain and power management.
All TI reference designs include a schematic, test data and design files. Learn more

Join TI E2E™ Community to ask questions, share knowledge, explore ideas and help solve problems with fellow engineers.


Subscribe to TI's Analog Connection eNewsletter.
The Analog Connection eNewsletter, published monthly, keeps you up to date on new products from TI in the areas of Amplifiers and Comparators, Power Management, Data Converters, Interface, Clocks and Timers, and Audio. The Analog Connection eNewsletter includes a short, concise article on each new product, along with pricing and links to more information on the Web. Click here to subscribe.
Subscribe to TI's Processor Design News Newsletter
Processor Design News, a quarterly e-newsletter, includes access to technical documents, free downloads, product announcements, training and the latest news on TI processor-based designs that use high performance ARM® and DSP cores. Click here to subscribe.
Subscribe to TI's monthly Wireless Connectivity Newsletter
Get the latest information on all TI wireless connectivity devices! The Wireless Connectivity eNewsletter keeps you up to date on new software and hardware releases, developers' news, and other news and events associated with TI's wireless connectivity solutions. Click here to subscribe.
Subscribe to TI's MCU NewsFlash Newsletter
Get the latest information on all TI MCU devices! Stay up-to-date on the latest from TI's low power and performance MCUs, as well as current product announcements from third party companies and training updates. We'll also update you on the latest hardware and software tools to help speed your designs to production. Click here to subscribe.
Technical Articles

6LoWPAN Demystified
(RF, Microwave, and Wireless Components)
6LoWPAN is connecting more things to the cloud. Low-power, IP-driven nodes and large mesh network support make this technology a great option for Internet of Things (IoT) applications. As the full... (
View Full Article
)

A Link to the Internet of Things
(RF, Microwave, and Wireless Components)
It has been over a decade since the term Internet of Things (IoT) was first coined. Making its way to the center of the stage, it has now become mainstream. All of a sudden, leading companies are... (
View Full Article
)