About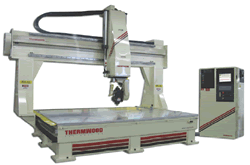 Thermwood Corporation manufactures a broad line of machine tools called CNC Routers. A CNC Router is used to cut, trim and shape a wide variety of materials including wood, plastic, composites, foam, honeycomb core and non-ferrous metals into either flat or three-dimensional shaped products. These fast accurate machines are used by a wide variety of manufacturing industries including woodworking, plastic, aerospace, automotive, boating, medical and defense. Thermwood builds a wide selection of systems in both 3 and 5 axis configurations, from low cost packages for small shops to aerospace packages capable of machining small and large parts in a single setup.
Thermwood Products Include:
CNC Routers
Edgebanders (Automatic and Semi-Automatic)
Equipment Repair Services

Router Bits
Saw Blades
Specialty Cutting Machines
In the technology and capital goods area, Thermwood is the oldest manufacturer of highly flexible, high-speed machining centers known as CNC routers. They primarily market to the woodworking, aerospace, plastics and composites industries but have found applications in almost every major industry from medical to entertainment.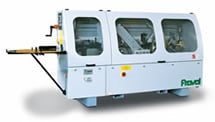 Thermwood has a strong commitment to advanced technology. It develops, manufactures and distributes technology based products, software, equipment and services for the manufacturing sector. It sells its products primarily as all-inclusive systems targeting specific customer applications and offers complete packages for many familiar industrial applications. Thermwood works closely with each customer and their application to find the best machine product and support technology and then provides extensive guidance, support, training and ongoing service.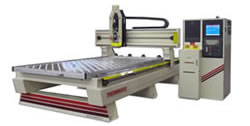 Thermwood's CNC routers are generally sold as systems, which include advanced software, the machine, machine options, tooling, formal training and ongoing support, all integrated and engineered into a complete package that is both effective and easy to use. Thermwood operates a well equipped and staffed demonstration and education facility where they demonstrate the specific system they recommend to each customer, actually producing the customers' parts while they watch. This increases confidence and eliminates technical risk.
Thermwood is the exclusive US distributor for Fravol edge banders and edge processing machines. Systems are available for virtually any edge processing requirement featuring a wide range of automatic, single side edge processing machines along with a wide selection of options designed for small to large shops. They can process thin tape, 3mm PVC, HPL, aluminum and solid wood strips up to 16mm thick, perfectly suited for all edge processing applications. Fravol also offers semi-automatic edgebanders and trimming machines for edging round or curved parts.
Fravol edge banders are heavy duty machines engineered to perform in the most hostile environments. These technically advanced systems have successfully addressed problems common to edge banders resulting in robust, reliable production.
Thermwood is an international company with sales and service in 35 industrialized countries.
Supplier Directory Categories
Thermwood Corporation is also listed in these categories: