About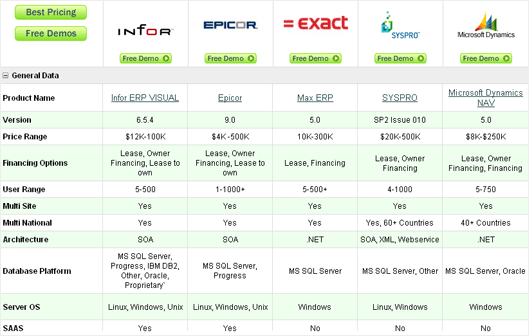 Top10ERP.org is a FREE online service which indexes and compares the highest rated Manufacturing and Distribution ERP Software Systems from the most trusted software vendors. Use their trusted time-saving ERP Vendor Index and Comparison Tools to find the right system for your complex Business.
Since 2008, the Top10erp.org product index has served over 50,000 Manufacturing and Distribution Businesses in the U.S.A. and Canada.
Top10erp.org offers the most powerful and comprehensive online Side by Side Product Comparisons…
Top10erp.org's Free Online Services save Decision Teams valuable research time:
Find the "BEST FIT" Manufacturing and Distribution ERP Systems based on your business's specific production, industry and technology needs.
Refine your shortlist through powerful side by side comparisons.
Request multiple vendor demos and price quotes for your entire shortlist in one simple step.
Gather weeks of product information in just minutes, and shorten your team's decision timeline.
Free White Paper Library and Case Study Library
The Top10erp.org powerful online search and indexing architecture enables you to match ERP software systems to your specific business needs. See why thousands of complex Manufacturing and Distribution Enterprises have used Top10erp.org to research and compare ERP software by the following criteria: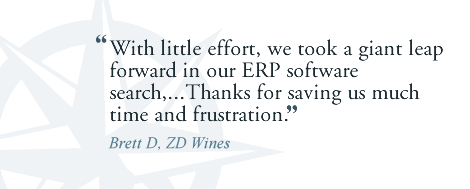 Top10ERP.org is committed to providing authentic, useful and unbiased Enterprise Resource Planning (ERP) software decision support and product information to manufacturing and distribution businesses throughout the United States and Canada.
Supplier Directory Categories
Top10ERP.org is also listed in these categories:
Technical Articles

Abas ERP-Case Study: Bergmann & Hillebrand:
(Enterprise and Plant Management Software)
ERP always current through upgrades "Using the abas Business Software, Bergmann & Hillebrand, manufacturers of precision perforated plates, could halve their flow times and significantly reduce the... (
View Full Article
)