About
In 1927, Harold E. Trent had the right idea when he said: "If we are innovative and build equipment our customers can rely on day in and day out, year after year, at a fair price, our reputation for manufacturing quality products and providing quality services will grow and endure."
Today, after more than 75 years of providing industrial heating solutions, our customers keep coming back. TRENT is a leading designer and manufacturer of electrically heated equipment for diverse industrial and commercial applications. Among the products in our line are electrical heating elements, ovens, furnaces, kettles, melters, jackets, plug (duct) heaters, water and oil immersion heaters, hot plates, tubular and cartridge heaters.
Service: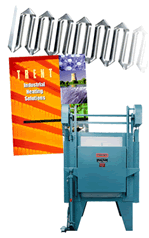 At TRENT, service starts long before production begins and extends long after delivery. We believe thorough planning and precise communication before and during production are as essential as final inspection and follow-up after delivery.
Computer-Aided Design: TRENT offers numerous catalog selections; however, chances are your oven or furnace will be custom-made. Our computer-aided engineering department employs the latest technology in adapting our proven designs to meet your specific needs.
Timely Delivery: Your order gets the quickest possible attention. In many cases, we can design, develop and build your custom equipment in the same time it takes others to deliver their standard offerings. Our experience equates to reasonable prices and cost savings for you.
Minimized Production Down-Time: Permanent files are kept of all drawings and specifications. If at any time you need replacement parts, we can quickly manufacture them to minimize your production down-time.
Innovation:
Our craftsmen and engineering staff work hard to provide cost-effective solutions. We fabricate many parts, because the quality of ready-mades just isn't there. For example, our:
Folded and Formed (F&F)® Heating Elements were developed to meet the need for higher temperatures and improved temperature control demanded in today's heat processing operations.
Trentknit™ gasket made from stainless steel mesh and high density braided ceramic fiber rope provides better thermal efficiency and a maximum operating temperature of 2000°F. Trentknit™ is more resilient and withstands higher temperatures than fiberglass-type gaskets.
Craftmanship:

Our expertise and know-how has enabled us to remain strong throughout our long history.
Experienced Personnel with service length averaging over 15 years, create work quality that reflects their expertise. With a good mix of experience and youth, we perpetuate this expertise through active training programs using our experienced craftsmen.
Quality Control procedures are among the most extensive in the industry. Thorough testing and inspection, before a TRENT product leaves our plant, guarantees superior performance.
Service, Innovation and Craftsmanship are hallmarks of TRENT, not just buzz words.
Supplier Directory Categories
Trent, Inc. is also listed in these categories: