Profile Home
About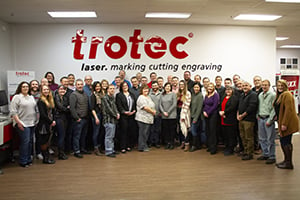 Trotec Laser is a leading provider of world class laser systems known for their wide range of processing capabilities and features such as high-speed processing, high-quality components, and a patented low-maintenance design. These systems include high-performance, midsize cutting and engraving machines, high-speed laser marking workstations, and large-format laser cutters.

Trotec's SpeedMarker Series high-speed laser marking machines are designed for efficient industrial marking of metals and plastics. With the ability to produce a variety of markings including annealing, staining, etching, foaming, carbonizing, or deep engraving, these class 2 galvo laser workstations are designed with high-productivity and cost-reducing benefits in mind, allowing you to create long-lasting, durable markings at top speeds. Mark individual components or large batches for full traceability, brand communication, or personalization.

Trotec was originally founded in Wels, Austria in 1997 and established in the U.S. in Mississippi in 2002. Now headquartered in Plymouth, Michigan, the U.S. business has grown to 10 times its original size, with a growing number of support facilities located throughout the U.S., including California, Arizona, Texas, Georgia, Florida, New Jersey, Virginia, and Washington. The company's extensive line of quality laser machines, coupled with its comprehensive line of materials and unmatched service and support offerings, have made Trotec one of the industry's leading resources for computer-controlled laser marking and engraving equipment.
Technical Articles