Profile Home
About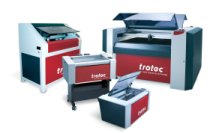 Customizable Laser Marking Solutions
Trotec Laser is a leading international provider of advanced, high-speed laser equipment for cutting, engraving and industrial marking. Trotec was originally founded in Wels, Austria in 1997 and established in the United States in Mississippi in 2002. Now headquartered in Plymouth, Michigan, the U.S. business has grown to 10 times its original size, with a growing number of support facilities located throughout the United States, including California, Arizona, Texas, Georgia, Florida, North Carolina, Illinois, New Jersey, and New Hampshire.
The company's line of industrial marking lasers are an efficient and cost-effective method for marking barcodes, serial numbers, logos and other images on a broad array of metals and plastics. Trotec marking lasers create highly precise markings and deep engravings on even the smallest items and curved surfaces, and markings stand up over time and in harsh environments. Systems are configurable for integration with existing workflow processes, and the included user-friendly software provides a customizable user interface, data integration with external systems (such as ERP and SAP), dynamic data processing, camera-aided positioning, and automatic, sequential bar code generation.
Trotec's laser engraving and laser cutting machines can process a wide range of materials including wood, paper, metal, acrylic, leather, stone, plastics, and more. The company's extensive line of quality laser systems, coupled with its unmatched service and support offerings, have made Trotec one of the industry's leading resources for computer controlled engraving equipment and marking systems.
Laser marking solutions
Trotec's SpeedMarker galvo laser marking systems were designed for efficient marking of metals and plastics along the industrial production chain. The systems are available in four different workstation sizes and various configurations including inline processes to meet a wide range of requirements. Trotec laser experts can also combine a broad range of options to accommodate unique application requirements.
Developed to support automated marking processes, the included SpeedMark software provides program modules for typical marking tasks such as producing serial numbers or codes. The modules are easy to adjust, and allow users to create tailor-made marking programs using graphical flow control. From simple direct input to fully automated marking, everything is possible – with no need for any special programming knowledge. Additional features include:
• Automatic, consecutive barcode generation
• Customizable user interfaces
• Material database for managing marking parameters
• Management of various user rights
• Interfaces to external systems such as databases
• Deep engraving function and processing of dynamic data
Benefits of laser marking
Industrial facilities have historically used a variety of marking methods including etching, mechanical stamping, mechanical engraving, dot peen, and embossing, to name a few. Due to their cost and time-saving benefits, laser marking is quickly becoming the method of choice. Below is an overview of the benefits of laser marking in industrial applications.
Durable mark
Laser marking is abrasion, heat and acid resistant, which is a major requirement in industrial applications. Depending on the laser parameters, it is possible to mark certain metals (e.g. stainless steels) without leaving tangible depressions on the surface (annealing).
Flexible - variable data
Very often the customers have to process variable data. The laser is the perfect tool to mark with either just-in-time online data or with data imported from any external system (such as office programs, files, SAP, databases, etc.).
Economical production
Since there are no setup costs as for example with pad printing, the costs per mark are always the same –whether you need 1 piece or 1000. The customer can work with different shapes or sizes at the same time. Laser engraving also does not incur any costs for consumables such as ink, chemicals, pastes or sprays (and therefore no disposal costs too). Energy consumption is low and setup time is reduced to a minimum.
A precise and complete tool for all materials, sizes and shapes
The laser beam is the most complete tool for metals and many kinds of plastics. All used material can be marked directly and precisely with the laser without any additional setup or chemical additives such as sprays. Even 1 point lettering (needed for very small plates) and fine lines like technical drawings are clearly legible.
Easy handling
The included, Trotec made, software packages fit perfectly to the machines and are compatible with all graphics, CAD, label printing and similar programs. The customer does not need to learn a completely new software program– the whole job setup can be done in the laser software after preparing it in the daily used program.
Environmental friendly
Laser technology does not require any chemicals such as inks, acids or solvents. Therefore there is also no need for costly disposal and you can work independent from any legal environment restrictions.
Lowest wear and tear
Due to the contact-less process and a limited number of moving parts, wear and tear can be kept to a minimum. This also saves money and reduces downtime associated with maintenance.



Trotec continues to live up to its commitment to delivering best-in-class products and services. Since its initial launch in 1992, Trotec has received numerous innovation awards, and in 2000 was granted ISO 9001 certification, meeting the highest standards for quality.
Trotec Laser, Inc. is also listed in these categories:
Technical Articles