About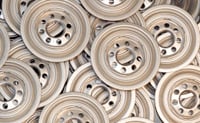 Tapping & Assembly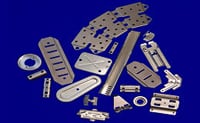 Metal Stamping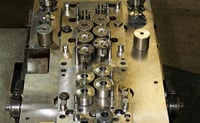 Tooling & Engineering
United Tool & Stamping Company of North Carolina, Inc. is a full service, ISO 9001:2008 certified manufacturer of metal stampings and custom assemblies for all industries, with a proud tradition of providing quality products to our customers.
High Volume Metal Stampings
Precision Metal Stampings
Close Tolerance Metal Stampings
Thin Gauge Metal Stampings
Custom Assemblies
Long Run Metal Stampings
Custom Metal Stampings
Heavy Gauge Metal Stampings
Short Run Metal Stampings
Our in-house tooling and engineering department provides the solutions you need to take your project from concept to finished product:
Progressive Dies - Transfer Dies - Compound Dies - Forming Dies - Clinching Dies
At United Tool & Stamping, we've been providing precision metal stampings
and custom assemblies since 1950.
Our facility is equipped with presses ranging from 8 tons to 600 tons that produce parts using a wide range of materials with thicknesses from .010" to .250" and widths to 24 inches.
Hot Rolled Steel
Brass
Aluminum
Cold Rolled Steel
Copper
Bronze
Stainless Steel
High Strength Low Alloy
(HSLA)
Supplier Directory Categories
United Tool & Stamping Company of North Carolina, Inc. is also listed in these categories: