About
Universal Laser Systems has been advancing the application of modern CO2 laser technology since 1988. R&D efforts have resulted in numerous patents, with several pending, in our continual pursuit to develop and enhance laser systems that benefit the customer. Our R&D philosophy and execution is based upon designing highly modular platforms that can be easily configured with interchangeable laser power cartridges and field upgradeable system options. This robust system configuration capability, unique to Universal, gives customers the flexibility and investment protection to optimize laser systems as their business evolves.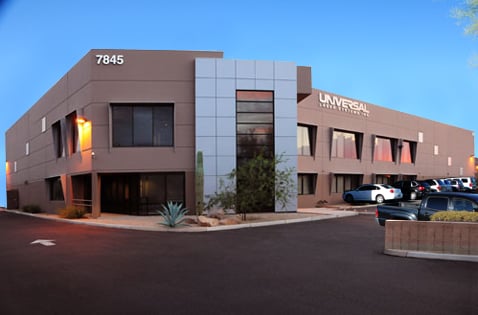 Our solely owned, custom-built, state-of-the-art engineering and manufacturing facilities are located in Scottsdale, Arizona, where we manufacture both lasers and laser systems. Additional operating offices are located in Vienna, Austria and Yokohama, Japan to assist Universal Laser Systems customers and distributors. The Universal Laser Systems Global Factory Authorized Service network is on call around the globe for local system installation, service and maintenance. Our Applications Lab, dedicated to the continual advancement of laser material processing, has developed unique solutions for thousands of customers.
Universal's passion for servicing customers has culminated in the industry's most comprehensive product line of laser engraving, marking, graphic imaging and cutting systems. As the leading provider of CO2 laser technology solutions, there is a Universal laser system installed in every country in the world with customers ranging from small, family-run operations to highly automated Global 2000 companies. Each customer shares a common thread – our systems help them make money and create additional business opportunities.
Whether you are a start-up company or an established business, we have the technology, people and experience necessary to help you develop and maintain a competitive advantage. No other company has a more comprehensive portfolio of R&D, systems, global service and material processing experience in CO2 laser equipment than Universal Laser Systems.

Universal's OEM Division

Universal Laser Systems is committed to providing innovative products for laser processing solutions. With a variety of products, state-of-the art engineering facilities and worldwide support, Universal strives to meet the most advanced needs of our customers.

All of our products are built at our laser manufacturing facility in Scottsdale, Arizona in the United States and we keep adequate stock levels to quickly respond to your integration requirements.

Contact us for a quote or to arrange a test of your application at our world class Advanced Material Processing Center.


CO2 Laser Material Processing

CO2 lasers provide an efficient non-contact method for cutting and marking a wide variety of materials including plastics, fabrics, leather, wood and laminates. The wavelength of the energy emitted from the CO2 laser is absorbed very efficiently by these materials. The absorbed energy is converted to heat, and the heat ablates material directly in the laser's path. Higher laser power levels can be used to cut materials leaving a clean, square edge. Lower laser power levels can be used to cause chemical or thermal reactions in the target material, creating permanent, high definition marks on the surface. These marks will not rub off and are ideal for branding or serializing parts.

CO2 lasers are typically available in two wavelengths, with slightly different uses.

Universal manufactures lasers with power up to 75 watts utilizing a single resonator design.

Universal manufactures 100, 120 and 150 watt lasers with a dual resonator design. Besides higher power, the cross-polarized beam generated by dual resonator lasers is advantageous for material processing applications.
10.6 µ lasers can be used for:

Cutting and marking plastic, wood, fabric, leather or laminates
Marking glass, stone, anodized aluminum


9.3 µ lasers:

9.3 µ lasers are ideal for high-contrast marks on PET bottles, photopolymers, and some other soft plastics.
Supplier Directory Categories
Technical Articles