About
Vacuum pumps and electronically controlled systems with ultimate vacuum from 80 mbar to 10-6 mbar. Oil-free, rotary vane and hybrid technologies, for end-user or OEM use.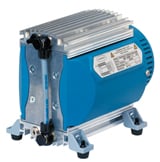 Vacuum Pumps
for OEM Integration
Quiet-running, low vibration, oil-free pumps with 24V DC drives.
Modular vacuum supply offering an economical, distributed alternative to central (house) vacuum for labs and industrial use. Install only what you need, when you need it.


Controlling and
Measuring Vacuum
Electronic gauges and controls for vacuum down to 10-3 mbar, all with analog/digital display. Includes cordless gauges, and gauges and controllers with PC interface.
---
For over 45 years, VACUUBRAND, Inc. has been an innovative force in vacuum generation, measurement and control. The company specializes in oil-free vacuum pumps and systems for laboratory and OEM applications, but also offers some of the world's most compact, low-vibration rotary vane pumps, as well as hybrid pumps that combine the best features of rotary vane and diaphragm pump technology. VACUUBRAND leads the vacuum world with its electronic control systems that include unique self-regulating, continuously optimizing control for vacuum applications.
VACUUBRAND is also a "green" manufacturer. Long a leader in sustainable manufacturing practices, the company was the first in the vacuum industry to earn ISO 14001 certification for its environmentally responsible manufacturing practices. VACUUBRAND collects and recycles 32 different types of production waste; processes all machining fluids for re-use; collects rainwater for sanitary applications; relies extensively on natural daylight in office and plant space; and captures process heat for building needs. Beyond green production practices, VACUUBRAND offers a comprehensive line of vacuum pumps that reduce energy consumption and capture solvent vapors from vacuum applications to prevent their discharge to the workplace or atmosphere. VACUUBRAND's network vacuum innovation—VACUU•LAN®—provides modular, distributed scientific vacuum with energy savings of up to 90 percent, or even more, compared with building-wide centralized vacuum systems.
OEM manufacture is another VACUUBRAND strength. The company offers exceptionally small, low-vibration, quiet-running, continuous-duty oil-free pumps that are readily adapted as components in larger instrumentation. When high-vacuum systems require rotary vane or oil-free diaphragm pumps for backing, manufacturers the world over know they can rely on the VACUUBRAND formula of rugged reliability, quiet operation, and compact size.
VACUUBRAND pumps are designed and built in Germany, using the latest in computer-aided technology and precision German craftsmanship. In North America, Vacuubrand, Inc., with operations in Essex, CT, supports US and Canadian customers with full warehouse and technical support.
CLICK HERE to view OEM Vacuum Pumps by VACUUBRAND Video
Watch the Whisper-quiet VACUUBRAND vacuum pumps Video below
Supplier Directory Categories
VACUUBRAND, Inc. is also listed in these categories:
Technical Articles