About
Spanish and Vietnamese Speaking


Van London-pHoenix Company (VL-PC) manufactures a wide variety of electrodes, sensors, assemblies and accessories for pH, Conductivity, ORP, Dissolved Oxygen, Karl Fischer, Ion-Specific and Custom Designs. Direct Replacements for Laboratory, Titration, Biotech or Industrial applications are available for all major brands. Their product lines include a complete offering of Table Top Meters, Portable Meters, Industrial Transmitters and many other related products. With a complete machine shop and glass blowing shop they are capable of producing industrial sensors that are designed for maximum performance in the harshest environments and a sizable inventory of sensors, analyzers, and meters are available to expedite orders. They serve the following world-wide industries; Industrial, Laboratory, Biotech, Food and Beverage, Pharmaceutical, Municipalities, Waste Water Treatment and offer Direct Replacements for most major brands. Van London-pHoenix Company has been in business since 1961 and has a long history of dedication to R&D to produce new measurements and designs to enable their business partners access to a superior product.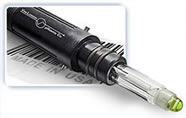 With the world becoming more of a "Global Economy" it was only logical when in 2007, they announced the merger of the two sister companies Van London Company, Inc. and Phoenix Electrode Company creating Van London – pHoenix Company ("VL-PC"). Every facet of VL-PC and its manufacturing is located in Houston, Texas, USA. They are a 100% family owned business and employ approximately 120 employees. They are also a registered Small Business allowing them to contribute to larger corporation's needs for diversity procurement fulfillment.
Since the merger, VL-PC has implemented many improvements and modifications.
They have consolidated, expanded and improved their manufacturing space. VL-PC now has over 35,000 square feet of space that occupies two adjacent buildings resulting in a stream-lined manufacturing flow.
To ensure redundancy and advancement, VL-PC has invested in and acquired an additional new CNC lathe for the machine shop and five additional induction heaters for blowing the glass membranes.
VL-PC has developed and implemented a bar-coded inventory system ensuring more accurate and shorter lead times.
They have expanded their Research & Development department to guarantee that VL-PC remains a leader in the industry.
VL-PC has improved the infrastructure of the Sales and Marketing teams to ensure the highest in customer service and satisfaction.
Since their inception, Van London – pHoenix Company's goal has remained the same: to consistently produce a high quality product that exceeds each client's unique needs in a timely fashion at a reasonable cost. It is their desire to not be a "vendor" but a "partner" to work closely with you to promote success. Welcome to VL-PC and thank you for sharing participation in their history!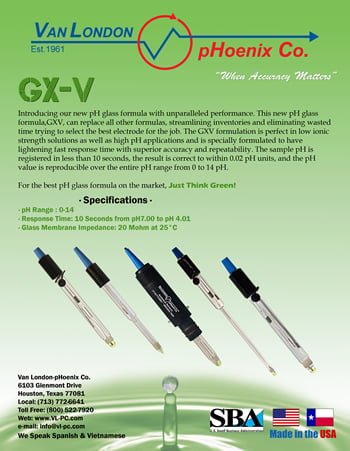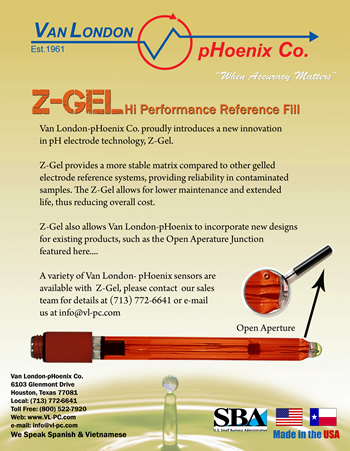 Supplier Directory Categories
Van London-pHoenix Company is also listed in these categories:
Technical Articles

Reference Electrodes
(Calibration Instruments, Standards and Reference Sources)
The purpose of this article is to educate the user about one of the most important aspects of electrode measurements - the Reference Electrode. Most difficulties experienced while performing... (
View Full Article
)