About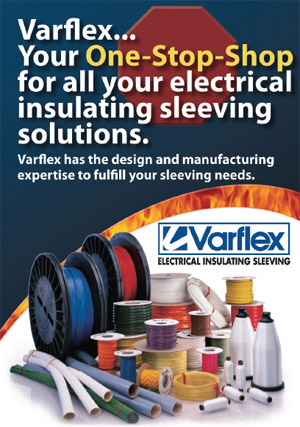 For over three-quarters of a century, Varflex Corporation has been the pioneer in the major development in braided electrical fiberglass insulation. Constant research of new methods and improved materials allows Varflex to supply electrical insulating sleevings that are best designed to meet their customer requirements.
Sleevings are an essential component of any electrical equipment, such as motors, transformers, generators, stators and many others. In response to these and other products, Varflex has developed an array of insulating sleevings, both coated and uncoated. They also braid nylon, polyester, Nomex, Kevlar, polypropylene and other yarns. Their sleevings are available in a wide range of sizes, colors, types and grades on spools, coils and in cut pieces.
Their sleevings are suitable for high and low temperatures, high and low voltages, as well as for abrasive and other physically demanding applications and hostile environments. Several of their sleevings are UL recognized, CSA certified, and many meet military specifications. All of their sleevings are both RoHS and REACH compliant
For those applications where standard products are not acceptable, they offer special coatings and treatments, heavy walls, and double and triple wall constructions. Custom overbraiding can also be provided on plain or coated wire (solid or stranded), cable, hose, flexible rod and multiple-conductor ribbon wire.
Although electrical applications are most common, Varflex braided sleevings can also be used to jacket wire bundles or other small devices from intense heat, radiative environments, ultraviolet light, abrasion and intermittent exposure to chemicals.
Varflex maintains long-term relationships with their many of its customers by continuing to supply them with high-quality electrical insulating sleeving, on-time deliveries and exceptional customer service. They market their products internationally through a network of sales representatives and distributors located worldwide.
Supplier Directory Categories
Varflex Corporation is listed in these categories: