About
We believe that when it comes to contract manufacturing, there's a world of difference between being a competent supplier, and a supplier partner known for outperforming. We know that to truly outperform, we have to play a critical role in helping our customers do the same. Which is why we've aligned every aspect of our business to do exactly that. Every day. For every customer we serve.
How We Help You Outperform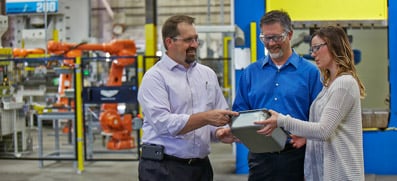 At Vollrath, we understand the challenges that come with developing new products. Vollrath Manufacturing Services bring all the advantages of a large OEM with the personalization and rapid response time of smaller organizations. We offer the best of both worlds. Our engineering and manufacturing teams become an extension of our customer's teams ensuring we deliver quality products, on time and within budget.
We not only manufacture outstanding components for some of the country's best known brands, but we build partnerships that endure project to project. Our highly engineered solutions not only improve product performance, but also reduce lead times and total cost. And, thanks to our six full-service U.S. based manufacturing facilities, we solve problems in ways typical manufacturers can only dream of.
Breadth of In-House Manufacturing Operations
We're not a commodity parts supplier – complex, engineered products and solutions are what we do best. From metal stamping, deep drawing and robotic welding, to materials and product sourcing and even plastics and acrylic manufacturing, Vollrath Manufacturing Services offers a wide array of process capabilities from a single, trusted source. With so many resources at our disposal, we can provide you with a better fitting, more reliable solution to suit your needs.
Supplier Directory Categories
Technical Articles

Article: Anodizing 101
(Engineering Services)
Anodizing aluminum is an electrochemical process that creates a layer of protection that makes the lightweight, durable material ideal for applications from automotive parts to bakeware. Working with... (
View Full Article
)