About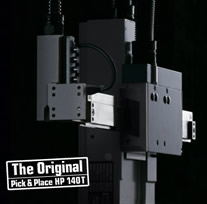 Leaders in High Quality Rotary and Linear Motion Automation
Weiss North America Inc. is a high-quality manufacturer of cam, servo, and linear motor-driven automation components. The company supplies rotary index tables, palletized conveyors, linear motor-driven pick-and-place units, cam- and servo-driven assembly chassis, ring index tables, and machine bases and tool plates.
The company's reputation as the leader in innovative solutions makes their customers more efficient, effective, and competitive. Please review WEISS' offering and you will see the difference their products can make. Reliable – Precise – WEISS.
Background
In 1996, Precision Detroit Company established a relationship with WEISS GmbH. WEISS has been manufacturing high quality index tables for over forty years and today is the leading automation component manufacturer globally.
In August, 2007, WEISS GmbH established WEISS North America, Inc. as a wholly-owned subsidiary. On September 30, 2007, WEISS North America, Inc. acquired the assets of Precision Detroit Company, Inc. relative to its PDC Geneva Motion index tables and its network of sales representatives throughout the U.S. and Canada.
Today, WEISS is one of the largest manufacturers of automation components in the world. With strategic locations in North America, Europe, and Asia, WEISS is positioned to support its innovative products and solutions globally.
Supplier Directory Categories
WEISS North America, Inc. is also listed in these categories: