About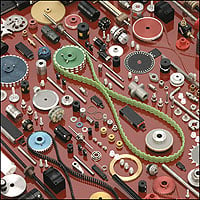 Precision Components like
Gears - Sprockets - Pulleys - Gear Boxes - Bearings - Clamps
W.M. Berg is the leading miniature precision mechanical parts supplier in the world; manufacturing and distributing quality precision mechanical components worldwide. W.M. Berg produces and distributes high quality precision gears, sprockets and pulleys, timing belts, roller chains, worm gear boxes, cam followers, breadboard kits, lead screws, hardware fasteners, linear slides, taper pins, spherical bearings, pin hubs, ground shafts, and many more quality precision mechanical components. W.M. Berg high quality mini precision mechanical parts for industry are used in robotics to manufacturing equipment; from controls to dental instruments to laser printers. For over 50 years, industries of all types have been relying on W.M. Berg for high quality precision mechanical parts.

At W.M. Berg precision mechanical parts, we pride ourselves on supplying the quality mechanical parts and product information you need, when you need it. Our engineering and application support, Six Sigma quality program, shortened lead times, lean enterprise, OEM partnerships, distributors, and industry applications sets W.M. Berg apart from other precision mechanical component manufacturers and distributors. W.M. Berg is constantly adding services, features, and improvement programs in order to help us better serve our mechanical parts customers.

W.M. Berg supplies a wide variety of mini precision mechanical parts to a broad range of industries. W.M. Berg produces several different gear styles including spur gears, worm gears, and helical gears which are available in a variety of pitches, hub designs, and materials. W.M. Berg provides the essential mechanical parts to industries of all kinds such as providing every fastener required for precision mechanical designs from shaft spacers to lock washers.
From gears and sprockets to hardware fasteners, W.M. Berg is your source for quality precision mechanical parts. To find a W.M. Berg high quality mechanical parts distributor near you, use our convenient distribution locator. For more information about our precision mechanical parts, please contact us at (800) 232-2374 or (414) 747-5800 and one of our experienced associates will gladly assist you. Check out the wide variety of high quality precision mechanical components W.M. Berg has to offer.
Supplier Directory Categories
W.M. Berg is also listed in these categories:
Technical Articles

Engineering Tools
(Uncategorized)
Most of our really cool Engineering Tools are now web enabled! They are designed to help you get the most out of your computer. Save time in performing routine and repetitive calculations or... (
View Full Article
)