About

Walker Engineered Products designs, builds and services exceptional stainless steel tanks and vessels. The superior rigidity, surface quality and durability inherent in Walker stainless steel fabrication increase the efficiency and consistency of their customers' products and processes.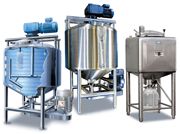 At Walker they focus their engineering skills and expertise on the innovative and sophisticated sanitary design of their storage vessels, process tanks and custom stainless steel fabrications. Their customers recognize that polished vessels are an integral part of Walker design. They know that they are getting the highest value products and technology solutions for the most challenging storage, mixing and processing applications in their industries. The technology behind Walker Engineered Products ensures quality in a wide range of markets that mix, blend, process and store.
Personal Care
Fine Chemicals
Tank Heads

Walker Engineered Products is a prominent manufacturer of hydroformed tank heads.
They utilize various metals to fabricate both standard and custom tank heads and other formed metal used in manufacturing in a wide range of sizes, gauges, types and shapes to meet exacting customer tolerances. Walker tank heads are formed stress-free, then machined, beveled and polished so they are ready to be moved directly into a customer fabrication facility. Walker has regulatory agency approvals from ASME, CRN, and PED.
Tank heads are formed metal shapes of various sizes and thicknesses that are used in a variety of manufacturing industries for additional processing into everything from silo tank heads to ornamental designs. Walker Engineered Products makes one of the highest quality tank heads on the market because they are the experts at hydroforming, also referred to as pneumatic pressure forming. Pressurized air forces a defined geometric shape into a piece of metal evenly and uniformly across the head so that there are no residual stress points.
Capabilities & Benefits
After hydroforming, the Walker tank heads are machined, beveled and polished for a finished profile. Since there are no residual stress points, the heads can then be routed directly into the fabrication facility for further processing. Customers save on the extra machining costs and benefit by keeping lower inventory on hand. The Walker hydroforming process keeps tooling costs down, easily accommodates different shapes and is flexible for fast turnaround.
Supplier Directory Categories
Walker Engineered Products is also listed in these categories: