About
Smart Solutions on the Cutting Edge
Demand on production for small parts around the world is continuously increasing. Higher expectations are put on the producers of these parts, and this is where WhizCut comes in.
At WhizCut they understand the day to day challenges the users of automatic lathes are up against. To assist these users WhizCut has developed a wide range of useful products for all automatic lathes around the globe.
WhizCut tries, to put it simply, to find new solutions for existing problems within the world of small part machining. Their company is based on these new products that will make your production faster, more precise and more effective. No matter if your work is in external cutting or internal cutting, WhizCut has the solutions to boost your production.
WhizCut is determined to continue being one of the leading manufacturers for small part machining in the world.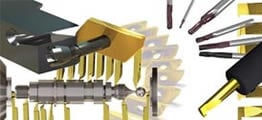 Tooling for CNC Swiss Automatic Lathes
WhizCut offers a complete external and internal range of tool holders and carbide inserts specially developed for CNC Swiss type automatic lathes. With this new precision tooling, WhizCut will help you improve productivity and reduce interruptions in production in your Swiss lathe.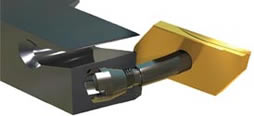 WhizFix Tool holder System
The WhizFix tool holder system for external turning in Swiss automatics uses a bent pin and a nut to index the insert. Indexing an insert is easy, accurate and quick. You can index or change the insert while the tool holder is in the machine, even if there only is access from the back side of the tool holder.
WhizIn Internal Cutting System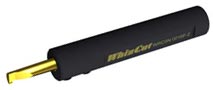 The WhizIn tool holder for internal turning in Swiss automatics has the carbide boring bar mounted at an angle to achieve greater precision. By mounting the carbide boring bar at an angle they grind away less from the base of the insert which makes the boring bar more stable. Other benefits are less grinding time and grinding stress, and that the coolant may go through the tool holder and spray directly on to the cutting zone.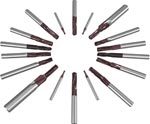 WhizThrill Solid Carbide Thread Mills
WhizCut will change the way thread mills are used today by introducing WhizThrill. The WhizThrill deburring solid carbide thread mills take thread milling to the next level.
WhizThrill thread mills are produced with the best carbide and coating combination to be in forefront of technology both when it comes to tool design and material. WhizCut also offers a wide range of micro thread mills with extra tool strength.
WhizCut Special features
Versatile external tooling with 2 clamping systems
Inserts for all standard applications
Up to 20° positive cutting rake
Fully ground edge
Micro grain Carbide
PVD coated carbide inserts
Chip control
Unique external back turning insert

Easy indexing of inserts in the machine without taking out the tool holder
An internal tooling program with outstanding stability
Wide range of internal boring bars
Boring bar diameter starts at 1 mm
Solid carbide thread mills with deburring
Custom made external and internal inserts can be specially made to suit customer needs
Supplier Directory Categories
Technical Articles

Micro Thread Mills vs. Thread Tap
(Cutting and Forming Tools)
Benefits of Micro thread mills in the medical industry - "The quality of the thread is light years better and the consistency of the thread is as it should be - consistent." A large American... (
View Full Article
)