About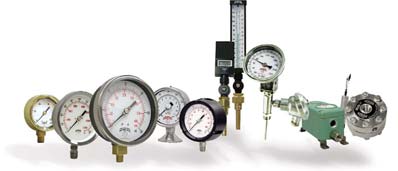 Since 1953, Winters Instruments has been providing quality built instrumentation to all markets that require pressure and temperature measurement. Through the years, the company has grown in size and reputation and is now a leading, global manufacturer of industrial instrumentation. Their comprehensive product lines of pressure gauges, thermometers, diaphragm seals, transmitters, switches, and accessories are brought to market by an extensive network of distribution partners who share their successes of being trusted by some of the world's most recognized Fortune 500 companies and leading municipal organizations.
Winters Instruments is proud to be an ISO 9001:2008 registered manufacturer. They maintain complete control in their product offering of industrial instrumentation, from design, engineering and manufacturing, to servicing, calibration, repairs and product training for all markets.

Why Winters?

Global. Operating from 7 worldwide offices in Toronto, Calgary, Buffalo, Houston, Shanghai, Montevideo and Buenos Aires, Winters works closely with a vast network of distribution partners in over 80 countries to ensure that customers receive the instrumentation they require. This also allows Winters to provide local support to ensure their customers are individually serviced in the markets they operate in.

Cover All Markets. Winters works with customers in industries such as fluid power, wastewater, pharmaceutical, petrochemical, oil and gas, process control, HVAC, power generation, plumbing, food and beverage, agriculture, pulp and paper, and many others. Winters is affiliated with industry groups such as the National Fluid Power Association, ASHRAE, and Canadian Process Control Association. In addition, many of Winters' products are manufactured, tested and certified in accordance to globally recognized third party agency requirements (3A, CSA, CRN, CE, FM, UL, NACE).

High Field Support. Winters maintains field located regional sales managers who provide on-site visits and product support to distributors, end users and OEMs. Their customer service team is well trained in order management and can also provide telephone support on technical challenges. In addition to their world class customer service, Winters conducts training programs every quarter to provide their distribution partners with comprehensive sales tools and keep them up-to-date on new developments in instrumentation.
Winters CDN Division
121 Railside Road
Toronto, ON
M3A 1B2
Canada
Winters USA Division
600 Ensminger Road
Buffalo, NY
14150
USA
Winters Asia Division
Suite 103-109, Shanghai
WitHub Hi-Tech Business Center
333 Hongqiao Road
Shanghai
200030
China
Winters Latin America Division
Albarellos 1916 1º Piso,
Of. E3 (B1640BIN) Martinez
Buenos Aires
B1640BIN
Argentina
Supplier Directory Categories
Winters Instruments is also listed in these categories:
Technical Articles