About
Founded in Worcester, Mass., in 1865, WPI was one of the nation's earliest technological universities. From their founding days, they've taken a unique approach to science and technology education.
Unique part-time graduate programs for professionals - Online and at Company Sites
WPI's Corporate and Professional Education division understands that today's professionals working in the technology, science, and engineering sectors must enhance their education to maintain and further their careers. These successful professionals deserve the same quality graduate degrees as those earned by full time students on a college campus. Selected part-time masters degrees are delivered online and at corporate sites for the convenience of the hard working, professional students. These programs are taught by the same faculty who teach at the WPI campus with the courses and programs interchangeable with those offered on campus.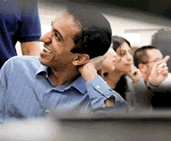 Selection of graduate degrees for professional students
Masters in Systems Engineering
Masters in Power Systems Engineering
Masters in Mechanical Engineering
Masters in Environmental Engineering
Masters in Fire Protection Engineering
Masters in BioScience Administration
Where science and technology meet real-world problems
WPI believes that students should understand how to apply knowledge – not just how to cite facts and theories. WPI's undergraduates and graduate students emerge ready to take on some of the most difficult challenges in science and technology. More important, they understand how their work can truly impact society and improve our lives.

Outstanding academics, faculty and research programs
WPI's academic departments offer more than 50 undergraduate and graduate degree programs in science, engineering, technology, management, the social sciences, and the humanities and arts, leading to the BA, BS, MS, ME, MBA and PhD. WPI's world-class faculty work with students in a number of cutting-edge research areas, leading to breakthroughs and innovations in such fields as biotechnology, fuel cells, nanotechnology, and information security.

A highly regarded institution


WPI is ranked No. 64 among all national, doctoral universities by U.S. News & World Report; No. 1 for student/faculty interaction in the National Survey of Student Engagement; and No. 9 by The Princeton Review for "best career prospects" for graduates of their MBA program. And that's just the beginning of the recognition they've received from a large number of institutions and individuals for their high quality and unique approach to education.
Supplier Directory Categories
Worcester Polytechnic Institute - Corporate and Professional Education Division is listed in these categories: