About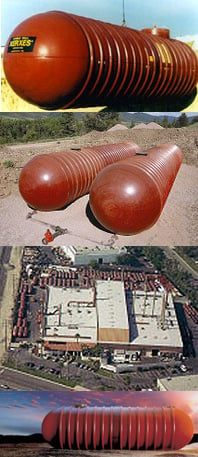 As communities, businesses and governments become increasingly aware of the need for safe, design-proven underground storage of many liquids, Xerxes' corrosion-resistant, lightweight and structurally strong tanks are proving to be the tank of choice for many applications.

Many of the world's largest oil companies and petroleum marketers rely on Xerxes tanks for the safe underground storage of their petroleum products. In the past 30 years alone, more than 100,000 Xerxes tanks have been installed for the underground storage of petroleum products. A clear indication that structurally strong, corrosion-resistant fiberglass tanks are increasingly the tank of choice in the petroleum industry is the fact that an estimated 95 percent of all tank purchases by major oil marketers today are fiberglass tanks.

Over the years, Xerxes' product line has expanded to meet customers' needs. In addition to its initial line of single-wall and double-wall tanks for the petroleum industry, Xerxes now offers multicompartment tanks, triple-wall tanks, the XTank, oil/water separators, and specially designed water and wastewater tanks. For instance, in the growing water and wastewater markets, the flexible design options of Xerxes water tanks make them easy to adapt and easy to install in a wide variety of underground storage applications, including potable water, fire-protection water, storm water runoff and septic.
Xerxes also has a line of corrosion-resistant fiberglass products for aboveground applications. Manufacturers and municipalities are the primary customers of AGP products, which include storage and process tanks, fiberglass pipes and fittings, and custom-fabricated equipment. With corporate offices in Minneapolis, Minnesota, and strategically located manufacturing facilities around the country, their proven expertise, innovation and capabilities, in both design and manufacturing, position them to provide prompt service and competitively priced products to customers in a number of industries.

Supplier Directory Categories
Xerxes Corporation is also listed in these categories:
Technical Articles