About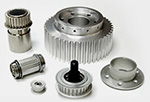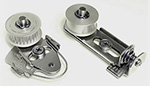 York Industries is the expert in small synchronous drives, with over 75 years of success in manufacturing custom and standard timing pulleys, gears, gear racks, custom assemblies, and as a supplier of timing belts. Our traditional values of quality and dependability have endured due to a policy of continual reinvestment that provides the company with the most up-to-date equipment for both manufacturing and inspection.

Our Credentials:
ISO9001:2015
R.E.A.C.H. and RoHS Compliant

Single-Source Manufacturing & Customer Service
You will find that York Industries is different. The level of quality, precision and customer service we provide from prototype to production consistently surpasses the expectations of our customers. We quote machined-to-print solutions for your cost savings analysis. You will have a single, dedicated customer service representative... someone who knows who you are and is experienced with your needs and preferences.

Upon Your Request: Early Supplier Involvement (E.S.I.) cost reduction at the design level with our OEM's.

Bar Code Labels: Bar Code Labels are available in your choice of format.

Prototypes: We can prototype in a machined-to-print material - steel, aluminum, or brass. Prototypes are often available in as few as 5 working days.

Second Source: An alternate source for a competitor's catalog part number! Call or fax us with that part number and the quantity for a quote. We may very well have the part in stock.


Supplier Directory Categories
Technical Articles