Gauge Probes
Product Announcement from Ametek Solartron Metrology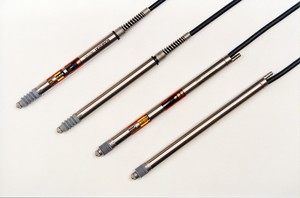 Spring Push, Pneumatic Push or Vacuum Retract (AX & DP)
In a conventional 'pencil' probe the tip pushes outwards under the influence of an internal spring. When installed in a fixture it is frequently required to design a mechanism to bring the probe into contact with the piece part being gauged. In contrast, pneumatic operation (pneumatic push or vacuum retract) allows the number of moving parts in a fixture to be reduced, resulting in improved reliability and reduced fixture costs. It also enables fast and safe automatic loading of components into a gauge when required. Probe types AX/5/1 and DP/10/2 feature an extended movement of 9 mm before entering the total measurement range of 2 mm.
Feather Touch Probes (AT & DT)
Feather Touch probes have been designed especially to gauge delicate surfaces such as car windscreens, TV tubes, pharmaceutical bottles, electro-mechanical components and plastic parts. Whereas a traditional probe exerts a tip force of approximately 0.7N, the Feather Touch exerts a mere 0.18N when used in the horizontal position. This reduction is achieved by replacing the naturally elastic traditional gaiter with a close tolerance gland. On pneumatic versions the air leakage through the gland is restricted to less than 2.5 milliliters per second at 1 bar to minimize the possibility of contamination to the surface being gauged. Despite the low volume of airflow the bearing within the probe is constantly purged, avoiding the build up of dust (use of filtered air is recommended). Replaceable nylon tips are used to guard against surface damage, although, for measuring hot glass, tungsten carbide tips can be fitted. Woven steel braid covering on the cable provides additional protection for applications where down time is critical.
For ultimate low force, Feather Touch probes can be supplied without a spring. Forward and return movements are activated by pneumatic/vacuum retract, but adjustment of air pressure allows all probes to have identical tip force, constant over the entire measurement range. If the probe is mounted vertically (tip up), retraction is by the dead weight of the moving parts, eliminating the need for vacuum.
Special Application Probes
When space is at a premium the extremely compact dimensions of the AX/0.25, DP/0.5, AX/0.5 and DP/1 can be exploited while retaining standard 8 mm diameter fixings. Also, when it is required to stack a number of probes close to each other, the A6G/1 and D6P/2 are only 6 mm in diameter, but still incorporate a precision linear ball bearing.
New Jet range Pneumatic Gauging Probes (AJ & DJ)
With conventional pneumatic transducers, the air pressure is contained within the gaiter. The new Jet range pneumatic gauging transducers are designed so that the gaiter is not pressurized. This has the advantage that gaiter damage will not effect transducer performance, resulting in less down-time and reduced cost of ownership.
Environmental Protection
A6G/1, D6P/2 and the AX and DP series of probes are all fitted with Viton® gaiters to exclude moisture and dust. Viton® is chemically inert and does not degrade when subjected to cutting fluids. Probes in the Feather Touch range (AT, DT series) have glands instead of gaiters, and therefore should only be used in a dry environment.
Absolute Measurement
All Solartron gauge probes are absolute measuring devices, which means that when switched on they return the correct output, regardless of movements during the off period.
Multi-dimensional gauging
An LVDT or Half Bridge gauge probe delivers its best performance close to its null point, requiring dedicated fixtures for each size of component being gauged. In contrast, the Digital Probe can be used at any point over its entire measuring range. This permits different sizes of components to be gauged in one fixture.
Customer Specials
Other options are available. Please contact our sales office to discuss your requirements.
---