LEVELING DEVICES- Low Cost High Value Series
Product Announcement from Vlier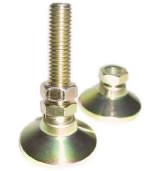 Low Cost High Value Levelers are available in both stud styles and socket styles, with or without elastomer pad.
Steel and Stainless Steel
Vlier HI-VALUE Stud Style Steel/Stainless Steel Leveling Devices provide an integrally machined stud as part of the ball. Stud Style Bases swivel 15º off the centerline to adjust to uneven surfaces and level machine tools, electronic racks, benches, etc. Zinc plate with gold chromate finish is standard, add '3' to end of part number for new Nickel Finish.
Stainless Steel Leveling Devices offer the advantage of an all-stainless steel design for maximum protection against rust and corrosion
Special Features
Hardened ball Stud and integrally machined ball
Large diameter base support
15º swivel off centerline
---