Peel-A-Way® DIP Socket Terminal Carriers
Featured Product from Advanced Interconnections Corp.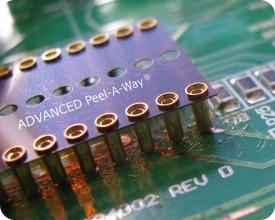 Peel-A-Way® DIP Socket Terminal Carriers from Advanced are a low profile, lightweight alternative to traditional, molded dual inline sockets. The high temperature carrier can be easily removed after processing for complete solder joint visibility and improved air flow. More information...
Mating Adapters/Headers available
High reliability screw-machined terminals
Wide variety of configurations available
Standard and custom designs
Carrier can be removed after soldering or left in place for added stability
Available with Gold/Gold or Matte Tin/Gold plating for lead-free compatible processing

Quick Links for our Peel-A-Way® Carrier Products:
About Advanced Interconnections:
Advanced Interconnections designs and manufactures customized interconnect solutions for semiconductor development and high reliability electronic applications including medical, military, automotive, and telecommunications. Our IC sockets, package conversion adapters, and board to board connectors feature screw-machined terminals for field-proven performance and durability. From prototype to production volumes, innovative designs are produced to customer-specific requirements in our fully integrated manufacturing facility in the USA.