Solder Preform Terminals Aid Intrusive Reflow
Featured Product from Advanced Interconnections Corp.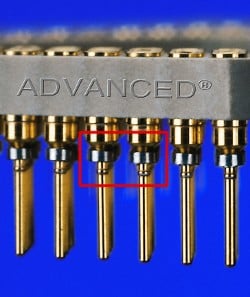 In mixed through-hole and SMT applications, incorporating a solder preform directly on the socket terminal enables use of the existing or traditional stencil design, without over-printing, to provide reliable solder joints. The solder preform provides a predictable percent of fill and eliminates extra processing steps. Using a solder preform can often reduce total system processing costs by eliminating the need for wave soldering, solder fountains, or additional solder stencil steps associated with intrusive reflow or pin-in-paste processes.
Solder performs are available in standard 63Sn/37Pb or lead-free 95.5Sn/4.0Ag/0.5Cu for RoHS Compliant applications. Over 15 standard screw-machined terminals are available with solder performs and customized designs are available upon request. Solder perform terminals are available on IC sockets and board to board connectors in various insulator materials including high temperature molded LCP, FR-4, and Peel-A-Way® Removable Terminal Carriers.
About Advanced Interconnections: